Former General's Forces And Islamists Clash In Libya's Benghazi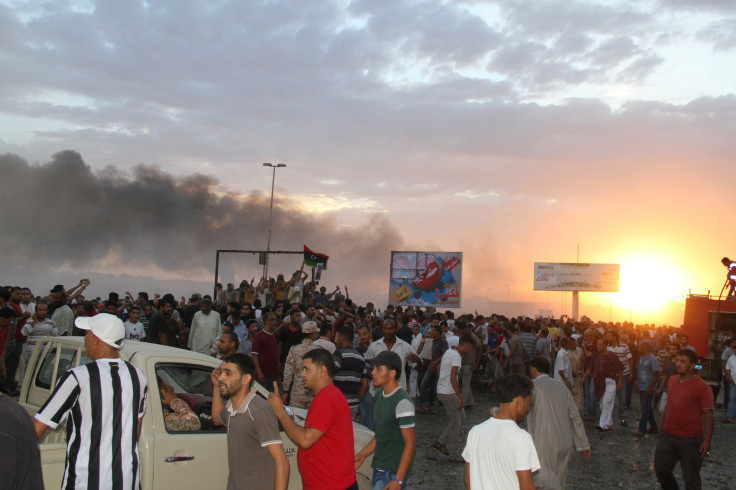 Heavy clashes erupted between a former general's forces and Islamist fighters in Benghazi on Saturday, military officials said, one of several conflicts raging in Libya in the worst violence since Moammar Gadhafi fell in 2011.
Armed Islamists are trying to prize Benghazi's civilian and military airport from the control of government troops allied to Gadhafi-era general Khalifa Haftar.
In response, Haftar's forces used helicopters to bomb camps of suspected Islamist militants, military sources said.
Haftar, who was once accused by the post-revolution government of trying to stage a coup against it, has declared war on several Islamist factions and teamed up with government forces in Benghazi.
Three people were killed and three others wounded in clashes between the two sides throughout most of the day in a suburb of the port city, hospital staff told Reuters.
Western powers and Libya's neighbors fear the country will turn into a failed state. The weak government is unable to control former rebels who helped topple Gadhafi but are now fighting each other for power.
Libya's government and elected House of Representatives last month relocated to the remote eastern city of Tobruk after an armed group from the western city of Misrata seized the capital Tripoli and most government institutions.
A spokesman for Haftar's forces, Mohamed El Hejazi, said his forces were planning a military offensive in Tripoli soon. He did not elaborate.
Those now in control of Tripoli have set up a rival parliament and government that have not been recognized by the international community.
On Saturday, local TV channel al-Nabaa showed Omar al-Hasi, the man nominated as prime minister by the newly established Tripoli parliament, and his new Cabinet being sworn in.
In response the government of Prime Minister Abdullah al-Thinni, who was elected by the House of Representatives last week, said in a statement it sought to represent all Libyans.
© Copyright IBTimes 2023. All rights reserved.