Former No.1 Draft Pick Proving To Be Golden State Warriors' X-Factor In NBA Finals
KEY POINTS
Andrew Wiggins carried the Golden State Warriors to a Game 5 victory
Stephen Curry and Klay Thompson provided subpar numbers
Wiggins has become the Warriors' most important contributor
The Golden State Warriors are now just a win away from winning their fourth title since 2015 as they downed the Boston Celtics, 104-94, in Game 5 despite the lack of production from their main stars.
Stephen Curry and Klay Thompson combined for only 37 points on 14-of-36 shooting, which also included a 0-of-9 performance from the former NBA MVP from beyond the arc.
It seemed as if the fates had aligned for the Warriors this time around as first-time All-Star Andrew Wiggins unleashed his bag of tricks on the Celtics as they could not find an answer for "Maple Jordan."
With the Celtics being the unlikely winner of the third quarter as they outscored the Warriors, 35-24, it seemed as if Golden State was headed towards another monumental collapse similar to Game 1 of the NBA Finals.
However, Wiggins' 10-point performance with just one missed field goal in the fourth quarter saw him boost the Warriors to the victory and possibly his first-ever ring since being drafted first overall in the 2014 NBA draft.
Wiggins ended the night with 26 points on 12-of-23 shooting with no made threes plus 12 rebounds, two assists, two steals, and a block in 42 minutes.
It was that type of night for the Warriors where they had to depend on their so-called "others" to produce and they did just that.
Backup guards Gary Payton II and Jordan Poole had 15 and 14 crucial points respectively, with the latter having a buzzer-beating, three-point marker to close the third quarter and send the Celtics back to the bench in disbelief.
The Celtics failed to mount any meaningful offense in the fourth quarter as it became apparent that the Warriors' trash-talking, led by the ever-controversial Draymond Green, had gotten into their heads.
Add in the fact that Tatum had four airballs throughout the game and it becomes even more plausible to say that their luck ran out in Game 5.
As for Wiggins, he has become an unexpected ace contributor for Golden State after being traded to them in February 2020, a move that was greatly questioned by many fans and observers.
The gamble has since proven to be a perfect win as he is showing his full value to Warriors fans and the front office with his performance in the playoffs.
Though Wiggins is unlikely to be awarded an NBA Finals MVP for his efforts, the Warriors know how important he is to them and will likely be given an extension as next season will be the last year of his five-year deal with the Minnesota Timberwolves, allowing him to be a free agent in the summer of 2023.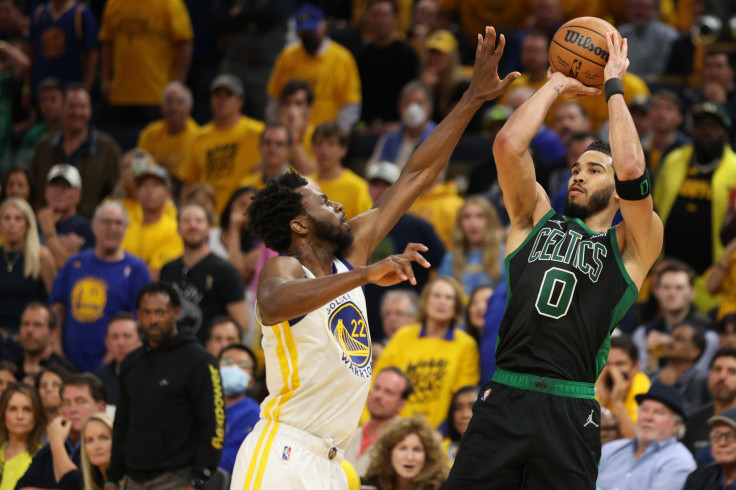 © Copyright IBTimes 2023. All rights reserved.
FOLLOW MORE IBT NEWS ON THE BELOW CHANNELS