Former 'Sleep No More' Interns Say Immersive NYC Megahit Offers Little Educational Benefit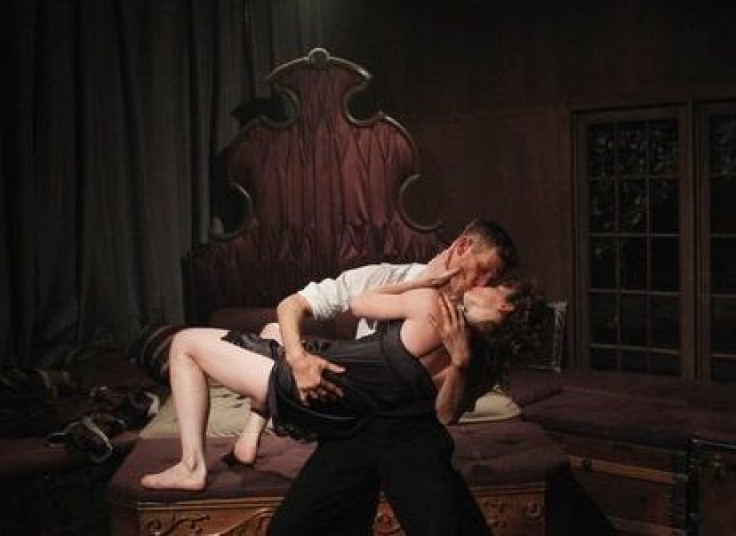 If you care about the burgeoning unpaid-internship movement, here's something that may keep you up at night: Interns for the wildly popular interactive show "Sleep No More" do a lot of grunt work for little educational benefit and no pay, according to people familiar the show.
Former interns who worked for the site-specific megahit in New York City describe a cyclical labor mill of unpaid interns training new interns and juggling backstage tasks that were once performed by paid staff -- aggressive violations of the Fair Labor Standards Act. The immersive riff on Shakespeare's "Macbeth," which has been playing to intermittently sold-out crowds for more than two years, lures in new interns with the promise of a so-called unique learning experience and "privilege" of being part of a huge word-of-mouth hit. But instead they are asked to perform the tasks of professional production assistants who would be well-compensated in the real world, according to people who worked for the show.
On Tuesday, International Business Times reported on a "Sleep No More" internship posting that appeared to openly flout labor laws by explaining that interns would be required to work full-time hours and even help "supervise and ensure safety of both the performers and audience." Since the article appeared, former "Sleep No More" interns and backstage helpers contacted IBTimes to say that they believe the show's stage-management internship program fosters a pattern of habitual labor and wage violations.
Few would speak on the record, for fear of either litigation or damaging their reputation in the insular theater industry. One exception is Austin Federa, who worked for "Sleep No More" for nine months, until June 2011, and was part of the initial volunteer crew that helped set up the space in Manhattan's Chelsea neighborhood. He said he was there when the stage-management internship program was in its inception and doesn't believe it offers any more real-world experience than a theater student would receive in a college production.
"It's a lot more grunt work than your typical mentoring-based internship," Federa said. "It's giving people opportunities, but I don't think it falls under the federal guidelines where the intern is supposed to receive more benefit than the host company."
Federa said he "did a lot of volunteer and intern coordination and training" during his time at the show. He said he believes he learned a lot during the pre-show process, when the space was being set up, and called that particular part of the experience "extremely valuable."
He was later offered a position as a stage-management intern but declined because he didn't see the educational benefit in continuing to toil away back stage for no pay. He said many others were willing to jump at the chance. "In a very real sense they treated those interns like extra help," he said. "There was really no distinction in their minds between a production assistant and an intern."
"Sleep No More" was created by the UK theater troupe Punchdrunk, but it's produced and operated by Emursive in New York City.
Rick Criswell, general manager for the show, defended the stage-management internship program earlier this week, but he did not respond to questions seeking more information in light of input from the former interns who contacted IBTimes.
"The bottom line is that we take compliance with wage and hour laws very seriously," Criswell said in an email on Wednesday. "The interns at 'Sleep No More' receive closely supervised training opportunities under the direction of our knowledgeable staff, and these opportunities are similar to those provided in an educational program."
Accounts from former interns, however, contradict that stance. "There's a clear, direct benefit to the company from the intern program," Federa said. "They would have to hire other people to do the work that the intern is doing."
Federa currently works as an unpaid intern for the NPR show "On Point" and said he's not against the idea of unpaid internships in an educational setting. Labor laws state that unpaid internships are only legal for training purposes.
The last few years has seen a slew of high-profile lawsuits in which former unpaid interns have sought back pay and damages for the time they worked. Most cases revolve around so-called glamour industries such as entertainment and media, where available paid positions are dwarfed by the number of candidates trying to break in.
One theater professional said unpaid internships are so common in theater that "Sleep No More" can hardly be considered an anomaly. Federa agreed, but he argued that the hit show, which charges $130 a ticket and recently opened a new restaurant, is in a far better position to offer compensation than a scrappy nonprofit off-Broadway theater run by volunteers. He said he believes actors and crew in a comparable touring show would be better compensated, hence the frequent grumbling he said he heard from the actors and crew.
"I didn't talk to anyone who thought they were being paid an amount reasonable for the work that they were doing," he said.
All that being said, Federa said he is glad he did the internship. He said the experience, in his case, was worth it, particularly getting the chance to see to how a show as "unbelievably massive" as "Sleep No More" comes together.
Theater is a tough racket indeed.
Got a news tip? Email me. Follow me on Twitter @christopherzara.
© Copyright IBTimes 2023. All rights reserved.
FOLLOW MORE IBT NEWS ON THE BELOW CHANNELS