Formerly Conjoined Twins Debuted At Philadelphia Hospital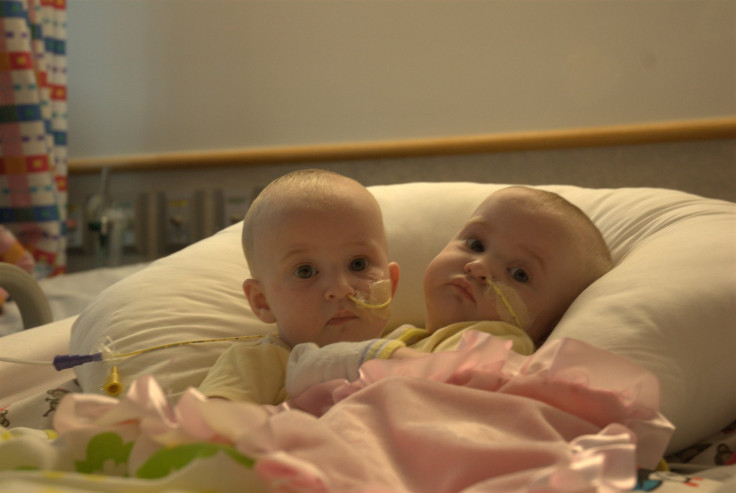 Philadelphia put two new stars on display this morning -- two very young stars.
More than nine months after they were born attached at the lower chest and abdomen, twin girls Allison June and Amelia Lee Tucker greeted reporters and the public at Children's Hospital of Philadelphia, the AP reports.
Parents Shellie and Greg Tucker of Adams, N.Y., which lies about 300 miles north of Philadelphia, discovered that Shellie was carrying conjoined twins 20 weeks into her pregnancy.
Doctors at the hospital, which has performed 21 twin separations since 1957, determined that Allison and Amelia would be strong candidates for separation based on prenatal ultrasounds and MRIs. According to hospital statistics, conjoined twins occur in about every 50,000 to 60,000 pregnancies.
Shortly after the hospital's diagnosis, doctors inserted expanders under the twins' skin to increase the surface area available to cover their exposed organs after separation. Before the surgery, the girls shared a liver, chest wall, diaphragm and pericardium. A 40-person medical team performed the seven-hour separation procedure on Nov. 7.
In Philadelphia Thursday, Allison and Amelia were rosy-cheeked and dressed in animal-striped shirts. Allison was discharged from the hospital Monday, while Amelia needs slightly more time to recover and will be held in care into the new year. Both girls still wear nasal tubes.
"We totally expect them to have full, independent lives," said pediatric surgeon Dr. Holly Hedrick, who led the medical team.
The girls' mother said at a news conference Thursday that the experience tested her and her husband. Now that the twins are growing healthier, Shellie says she expects a bright future for both girls.
"The burden is completely gone, and I am very, very happy," she said.
© Copyright IBTimes 2022. All rights reserved.
FOLLOW MORE IBT NEWS ON THE BELOW CHANNELS