France-Russia Mistral Carriers Update: French Government Ready To Offer Compensation, Report Says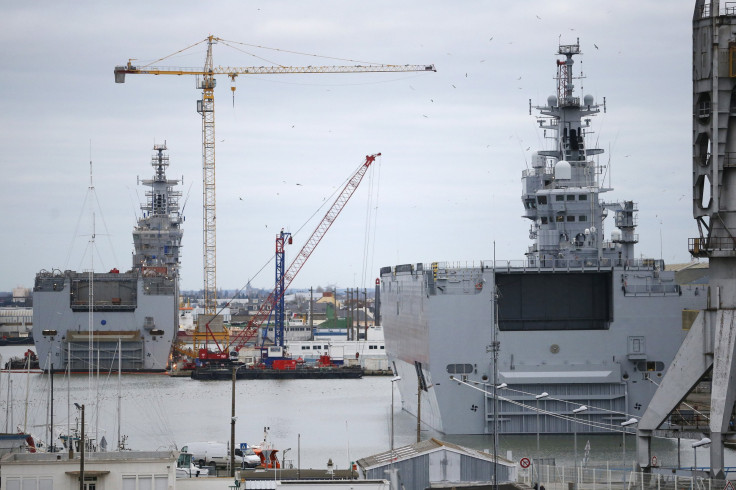 The French government was ready this week to propose terms of financial compensation to Moscow for its decision last year to cancel delivery of two Mistral-class helicopter carriers to Russia, according to a report. Talks between the two nations snagged in recent weeks due to apparent disagreements related to the amount of money Russia would receive, as well as France's purported desire to sell the Mistral to a third party.
"For France, the Mistral contract is significant for both diplomatic and financial reasons. French authorities do not want to be perceived as swindlers unable to fulfil their obligations," a French government source told French weekly newspaper Le Journal du Dimanche, as quotes by Russian outlet Sputnik News.
France's proposal reportedly includes a repayment of $875 million to Russia, as well as additional payment related to expenses the Kremlin incurred before the deal was canceled. Russia purportedly outfitted its ports to house the Mistral carriers and previously sent sailors to the French port where the Mistrals were kept for training.
Signed in 2011, an initial agreement called for France to build for Russia two Mistral carriers for delivery by the end of 2015. The French government backed out of the deal near the end of 2014, when the first Mistral was slated for delivery, amid concerns related to Russia's intervention in the eastern Ukraine conflict. Western nations have repeatedly accused the Kremlin of supporting separatist rebels in eastern Ukraine in a conflict that has killed more than 6,000 people since last year.
French officials have considered selling the Mistral helicopter carriers to another nation, such as China, India or Canada, as a means of recouping their losses on the deal, various reports said this month. Moscow has purportedly warned France not to sell the ships without its approval, which it does not plan to give until after it has received financial compensation. Moreover, Russia will only permit the sale of the carriers to nations with which it has cordial diplomatic relations.
"Measures would be taken so that the helicopter carriers would not be sold to the countries in strained relations with Russia," the government source told Le Journal du Dimanche. For example, Russia would consider it a "provocation" if France sold the ship to Georgia, a former Soviet bloc which gained independence in 1991 and since has sought to join the NATO military alliance.
© Copyright IBTimes 2023. All rights reserved.