France Could Sell Mistral Warships Meant For Russia To China, Report Says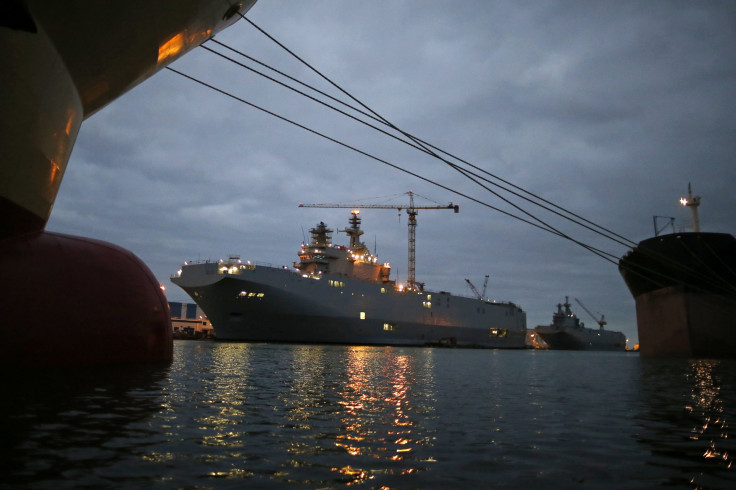 France may sell China the same two Mistral-class warships that would have been delivered to Russia under the terms of a nixed 2011 deal, according to a report. French officials opted not to sell the ships to Russia last November amid Moscow's increased military activity in Eastern Europe.
A potential sale of the Mistrals to China was one of several options French officials were considering to mitigate the financial loss associated with the canceled deal, Russia-owned outlet Sputnik News reports, citing a report from the Watch China Times. The ships could also be integrated into the French navy or sold to another party, such as Brazil, India or Canada. Russian officials have purportedly warned France not to sell the Mistral carriers without Moscow's approval.
France and Russia agreed in 2011 to a $1.7 billion deal for the delivery of two French-built Mistral helicopter carriers by the end of 2014. But the French government declined in late 2014 to carry out the transaction's terms, given the European Union's sanctions against Russia for its annexation of the formerly Ukrainian territory of Crimea in March 2014 and purported involvement in armed conflict between Ukrainian government forces and pro-Russian separatists in Eastern Ukraine.
France has no intention of completing its deal with Russia, French President Francois Hollande reiterated last month, Reuters reported. He added the French government would consider a refund in lieu of the promised ships.
"On the Mistrals, all options will be addressed…At the moment, as I have said, the Mistral delivery is not possible in the current context," Hollande told reporters at the time. "If the ships aren't delivered, I don't see how they can be paid for, it's a pretty simple principle … Under various scenarios, you have payment or reimbursement."
The canceled Mistral deal with Russia reportedly costs French taxpayers approximately five million euros ($5.7 million) per month in security and upkeep. Meanwhile, a refund could cost the French government an estimated 890 million euros, or more than $1 billion.
© Copyright IBTimes 2023. All rights reserved.