France Russia Mistral Ships Update: NATO, Saudi Arabia or Egypt Could Solve Costly French Military Crisis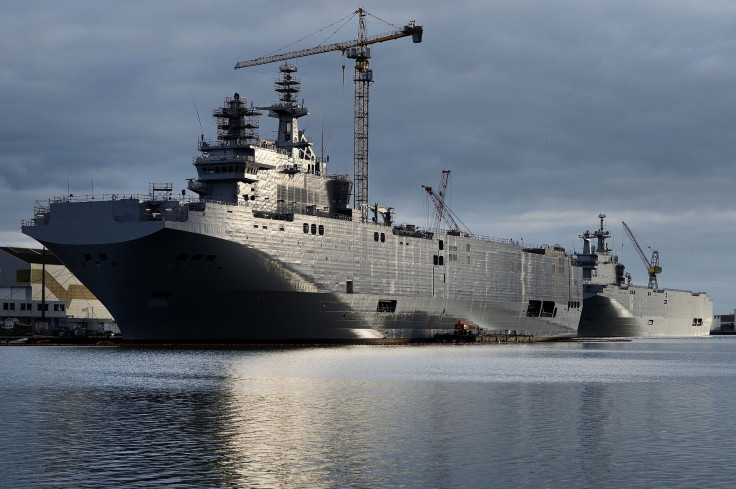 Inside the sprawling dockyard in the ancient town of St. Nazaire in southwestern France sits $1.2 billion worth of unsold naval hardware. Despite having never left the dock, the two Mistral helicopter landing ships, originally built by France for use in the Russian navy, inadvertently have become involved in the growing international dispute between Russia and the West over the annexation of Crimea and the war in eastern Ukraine.
Now they are causing problems in France.
Two days after managing to negotiate a way out of the deal with Moscow that had become a divisive, ethical and political dilemma in Europe, France faces the fresh challenge of looking for a new buyer that has both the military need and the hard cash for the two 21,000 ton warships.
"I think this will be a difficult product to sell," said Dakota Wood, senior research fellow of defense programs at the Heritage Foundation, a conservative Washington think tank. "Military ships are highly specialized and designed for a specific purpose that accounts for all the weapons systems and unique specifications that the navy in questions needs. In this case, the spacing and logistics to accommodate the unique aircraft that Russia was going to use. What other country shares those exact specifications?"
French Military Expenditure Over Time | FindTheData
When Europe passed strict economic sanctions on Russia last year over the fighting in Ukraine, the bans did not include the deal for the two Mistral ships. But French President Francois Holland was put under extreme pressure by his European allies to delay the deal until Russia observed a ceasefire in the contested region of Donbas. As the June 2015 delivery date drew near, little had changed on the ground in Ukraine and France was forced to default on the contract. In addition to paying Russia $1.3 billion in compensation, the French taxpayer is ponying up around $5.5 million a month to keep the ships in the privately run dock in St. Nazaire.
The burden of paying for both ships and storing them has come at a economically difficult time for France. Slow economic growth at an average of around 0.3 percent under the strict austerity measures of Hollande's government have done little to pay down the country's enormous debt of 98.43 percent of GDP, or $2.2 trillion. A program of high taxes on the wealthy has not helped either, only helping money and business flood out of the country. And with fewer jobs, unemployment has shot up along with welfare payments. That means less public cash to spend on defense items like helicopter landing ships.
To that end, French Defense Minister Jean-Yves Le Drian told RTL radio Wednesday it was "desirable that we sell them as quickly as possible" and that the government had "several" interested parties. Hollande added to Le Drian's comments, saying during the opening of the newly expanded Suez Canal in Egypt the country would have "no difficulty in finding a buyer."
The ships are unlikely to stay in Europe. At the beginning of 2015, Estonia was the only county in Europe that had met NATO's mandate requiring its members to devote 2 percent of GDP to defense spending. Of all other NATO partners, only the United States continues to spend above the threshold, but the Pentagon is working aggressively to curtail its huge defense budget and would be unlikely to emerge as a potential buyer. This leaves France with few credible and responsible options, if any.
Keeping the ships at home isn't an option. Not only does France not want the ships, it doesn't need them and cannot afford to introduce them into its own shrinking navy. Because both ships, known as the Vladivostok and the Sevastopol, are fitted out to accommodate Russia's Kamov Ka-52K ship-born helicopters, there would be added costs to refit the ships based on the specifications of the new buyer.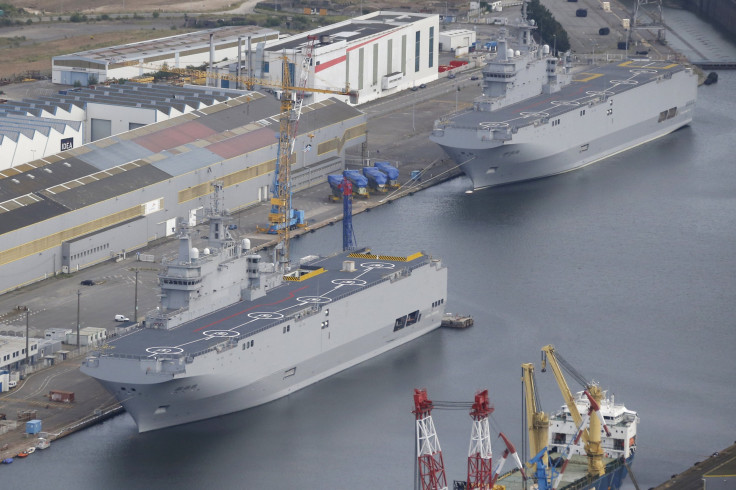 Early predictions suggest Egypt and Saudi Arabia could be interested in putting in bids for the ships, according to French media. But there are problems with those potentials deals, as well.
Saudi Arabia, which can easily afford the ships and is going through a period of serious defense acquisition because of the imminent lifting of the Iran sanctions, could use both vessels to help continue attacking the Houthis in Yemen and the Islamic State in Syria. While the low flying helicopters that would be launched from the ships are at greater risk of being shot down than jet fighters, they do offer more accurate targeting of the enemy and make it easier to avoid civilian casualties. However, Saudi Arabia is still ranked as one of the worst human right offenders in the world, according to multiple Human Rights Watch reports, and may even be a less desirable destination for the warships for France.
Meanwhile, Egypt is hardly synonymous with having an advanced Navy, but the recent expansion of the Suez Canal and the country's proximity to the increasingly militarized Mediterranean Sea does make it a compelling prospect.

"While I don't predict France will ever get its money back on this deal, Egypt could represent somewhat of a solution," said John Louth, a senior research fellow and director of defense studies at Royal United Services Institute, an independent military think tank in London. "With the stuff we've seen today about the Suez Canal expansion and promises of large capital programs and projects to help regenerate the Egyptian economy, you could see how Egypt might be able to afford the ships and make good use of them across the Mediterranean."
For France, selling the ships to one country may not be the only option. Faced with the prospect of possibly off-loading them to an undesirable country, France could look toward a large organization instead.
"This could be a collective purchase," Wood said. "NATO, a European response force or the U.N. could use these ships. They could be useful for providing humanitarian relief, peace keeping or disaster response if, say, a typhoon or hurricane came through an area."

However, selling the ships to any of these organizations will still come with potential issues. If NATO or a joint European force wanted them, there would be questions raised about how much each country would have to pay, how often they would get to use them, what the common language on board would be and what systems would be used. Similarly, the U.N. would also face tough questions about how it would pay for and operate the ships. While it could be argued, Wood said, the U.N. option would be the easiest and most noble for France, the cost of $1.2 billion would eliminate around a fifth of the organization's annual budget.
© Copyright IBTimes 2023. All rights reserved.