Francois Hollande To Take Partner To India, As Paris-New Delhi Talk Defense Deals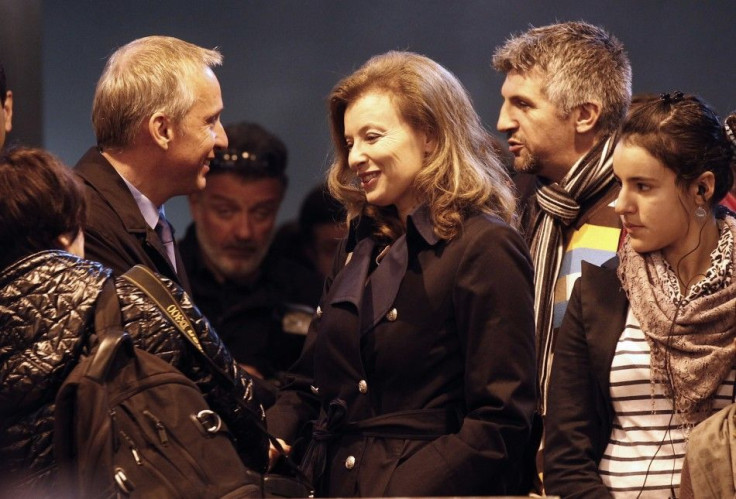 Coming off a triumphant tour of war-torn Mali, French President Francois Hollande is planning to make his first state visit to India in mid-February.
He will also be accompanied by his long-time lover, Valerie Trierweiler, as his "honorary wife" to avoid any embarrassing diplomatic snafus with Indian officials.
According to the Indian Express newspaper, New Delhi will relinquish normal customs by treating Trierweiler as France's 'First Lady.' Consequently, Trierweiler will be accorded all the ceremonial honors that a legally married spouse of a foreign head-of-state enjoys. This means that Ms. Trierweiler will be permitted to sit next to the president at official banquets, among other functions.
"This has the feeling of intercultural accommodation, and certainly is speaks to the ability of Indian diplomacy to modernize," commented Douglas Yates, a professor of political science at the American Graduate School in Paris as well as The American University of Paris.
"Today, India is prepared to adapt to French mores. Overall, a positive sign of the times."
Trierweiler is a two-time divorcee and has been with Hollande since 2007, when he and Ségolène Royal ended their long-term relationship (Hollande and Royal were not married either).
"Previous visiting leaders [to India] have faced similar problems and had to travel to the country alone," said Jamie Chandler, a political scientist at Hunter College in New York.
Indeed, when the former president of France, Nicolas Sarkozy, planned to journey to India five years ago, his girlfriend at the time, Carla Bruni, was pressured to drop out after the Indian government warned Paris that she would not be regarded as 'First Lady.' (Sarkozy married Bruni a week after he returned to France-- two years later they visited India as a married couple, including a jaunt to the fabled Taj Mahal.)
Just last October, a similar scenario arose involving the Australian Prime Minister -- but with genders reversed. The Indian government said it would permit Julia Gillard to bring her partner, Tim Mathieson, as an "official spouse." At the last minute, Mathieson decided not to accompany her on the trip.
As for Trierweiler, she has repeatedly told French media that she and Hollande have no plans to marry.
"I'm not so sure it will pose a diplomatic problem -- except perhaps on a visit to the Pope," she said. "Frankly, it's not a subject that preoccupies me. This marriage issue is first and foremost a private matter for us."
Christian Delporte, a French constitutional expert, told the Daily Telegraph: "The fact that Francois Hollande and Ms. Trierweiler are not married may not bother the French. Here [in France], public and private life are separate. But it is not the same in some other countries, where their relationship may be viewed as sinful."
Delporte added: "If they don't marry then the same thing could happen to him as to Mr. Sarkozy, where whatever his private feelings, he gets married out of his obligation to better perform his duties to France."
Chandler speculates that India's reasons for lifting its ban on unmarried companions of state leaders may have nothing to do with issues of matrimony and morality.
"India is likely capitulating due to very high-profile economic development talks between the two countries related to weapons sales and the building of nuclear reactors," he said, citing that the Indian military plans to purchase up to 189 Dassault French Rafale fighter jets at a cost of some $18 billion, a huge boost for France's defense industry.
In addition, India's Prime Minister Manmohan Singh will meet with Hollande to finalize a commercial pact that will allow French nuclear company Areva SA (EPA:AREVA) to construct two reactors at Jaitapur in Maharashtra.
"Another driver may be related to the recent international focus on India's treatment of women," Chandler noted, referring to the gang rape and subsequent death of a medical student in Delhi late last year that triggered massive protests.
"The country probably seeks to avoid criticism that it is discriminating against Trierweiler because she isn't in a 'traditional relationship' with Hollande."
© Copyright IBTimes 2023. All rights reserved.