Freddie Gray Baltimore Riots: Ferguson Protesters Say Authorities Must Hold Police Accountable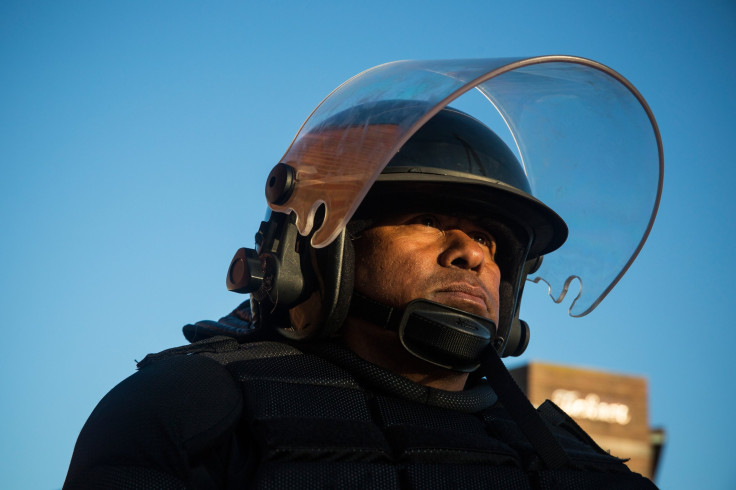 A veteran of last summer's protests in Ferguson, Missouri, has advice for officials in Baltimore if they want to quell the unrest that roiled the city Monday night. "They could start with charges against the police officers," said Louis Wilson, referring to the officers involved in the arrest of 25-year-old Freddie Gray, who died in police custody. "The establishment, those in charge, can assure the people that changes will be made."
Wilson, 57, took part in the protests in Ferguson over Michael Brown's death last year. After Brown was shot and killed by police officer Darren Wilson, there were months of protests that included looting, arson and clashes with police, worsened by a long history of tense police/community relations.
Police in Baltimore have suggested that they'd learned from the Ferguson unrest not to try to control protests with a heavy hand and not to demonize Gray. But on Monday, after Gray's funeral, at least some residents turned violent. Police leaders deployed officers in riot gear to handle protesters, who hurled objects at officers and police cars, looted local businesses, set a pharmacy ablaze and sabotaged firefighting efforts.
"History is repeating itself," said Damien White, a 30-year-old Ferguson activist who said he has angrily watched developments in Baltimore. "I feel their pain. I don't condone violence. But we have to let [police] know that you stand for something. You can't keep killing our people and then just let them walk away."
Police said Gray suffered severe neck and back injuries during his transportation to a police station on April 12 and died a week later in the hospital. As local, state and federal authorities have promised internal and independent investigations, the six police officers involved in his death have been suspended with pay. Police have suggested that officers may have failed to handle Gray properly during his detainment, such as not buckling him in during his transportation in a police van.
As funeral services were held, Baltimore police said in a statement that credible threats against officers had been made by members of three local gangs, including the Bloods and the Crips. During the unrest on Monday, at least 15 officers were injured, two of them hospitalized, police said. White, the Ferguson activist, said he believed police were purposely trying to instill fear in the community.
"They talk about Crips and Bloods, while the police are the biggest gang in America," said White, who said he planned to travel to Baltimore later this week to join protests. "If we're going to survive, we're going to have to survive together. I'm going wear my Mike Brown T-shirt and make sure that things don't get any more out of hand."
National leaders have condemned the violence that erupted after Gray's funeral. The Congressional Black Caucus, whose membership includes Baltimore native Rep. Elijah Cummings, D-Md., on Monday called for peaceful protests "so that additional lives are not lost."
"We understand people are angry and that the community is upset, but violence only distracts us from the justice we seek," members of the caucus said in a statement released Monday evening. "Violence does not lead to justice."
Over the Martin Luther King, Jr. holiday weekend in January, the caucus members had been in Ferguson to meet with members of the community. "We all play a critical role in helping restore trust in law enforcement and our justice system," the statement continued. "African-Americans deserve to be treated equally before the law."
© Copyright IBTimes 2023. All rights reserved.
FOLLOW MORE IBT NEWS ON THE BELOW CHANNELS