Freddie Gray Protests: New York City, Washington, DC, Among Cities Demonstrating In Solidarity With Baltimore [PHOTOS]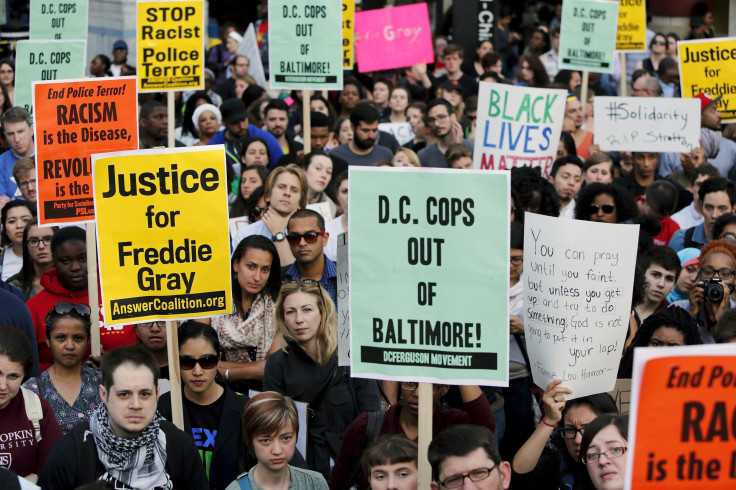 Update as of 6:30 a.m. EDT: Over 100 people were arrested in New York City during Wednesday night's protests over Freddie Gray's death, the Associated Press reported, citing NYPD. Police reportedly said that most of the arrests were made for disorderly conduct, and the final figure will be released Thursday.
Update as of 9:45 p.m. EDT: Denver police officers used pepper spray at a 100-person protest downtown Wednesday night, the Denver Post reported. They also arrested a number of participants.
Original story:
Activists in New York, Boston, Washington and other cities across the country rallied Wednesday night in solidarity with Baltimore to protest the death of Freddie Gray, the 25-year-old African-American who died last week from injuries sustained while in police custody. Earlier in the week, Los Angeles, Chicago and Ferguson, Missouri, had held protests of their own.
"We have a clear message," organizer Brock Satter told the Boston Globe at a 500-person rally in Boston. "We're gonna demand the government indict the killers of Freddie Gray. If you want peace, if you want calm, jail the killers of Freddie Gray."
Gray's death has been compared with those of Michael Brown in Ferguson, Missouri; Eric Garner in Staten Island, New York; and Walter Scott in North Charleston, South Carolina. All were unarmed black men who died during confrontations with police.
Erica Garner, Eric Garner's daughter, spoke at the New York rally. She told protesters that she had attended Gray's funeral on Monday and understood -- but did not endorse -- the violence. "We need to change this for the next generation," Garner added, according to Black Youth Project tweets. "This has to stop now."
The aunt of Akai Gurley, who was fatally shot by police in Brooklyn, New York, in November, was also in attendance, according to MSNBC reporter Amanda M. Sakuma.
Later in the night, local affiliate ABC 7 reported that New York Police Department officers had begun arresting protesters. At least 12 people had been taken into custody as of 8 p.m.
The size of the protests Wednesday varied, but Twitter posts showed that all of them had the same message: Black lives matter. Several demonstrations were organized around hashtags that declared their solidarity with Baltimore -- a phrase that's been tweeted more than 7,000 times in the past week, according to Topsy.
See photos and videos of the protests below.
New York:
© Copyright IBTimes 2023. All rights reserved.