Freese Frames Game Six Heroics as Child's Play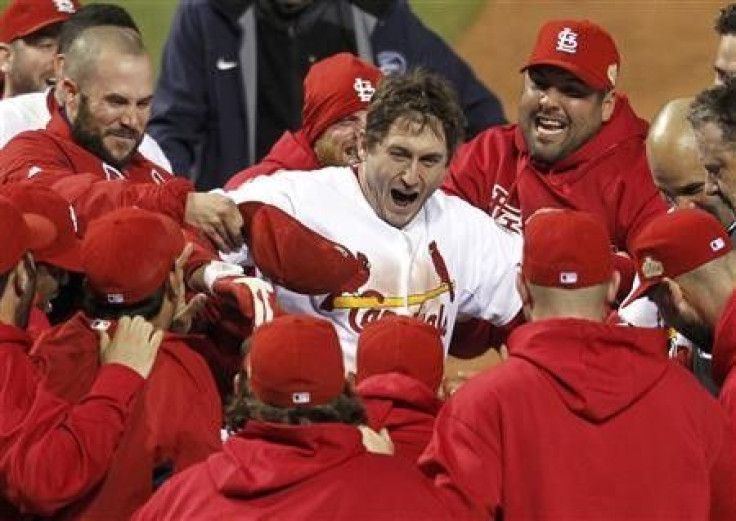 St Louis Cardinals hero David Freese said he was able to keep his emotions under control in Game Six of the World Series by remembering baseball, in its essence, is just a child's game.
It's all about knowing that this is the same game as when you're six years old, he said. It's just elevated on a stage, and everyone is watching.
But you've just got to keep reminding yourself, it really is the same game and you have a job to do and you try and execute.
Freese launched a dramatic two-run triple in the ninth inning to send the game into extra innings against the Texas Rangers Thursday.
He topped that feat in the 11th by belting a 429-foot, game-winning solo shot to power the Cardinals to a dramatic 10-9 victory and set up a deciding Game Seven Friday.
In between Freese's heroics, the Cardinals scored twice in the 10th to stay alive.
I knew we were going to have plenty of opportunities to bounce back and when things like that happen, you've just got to stay focused, Freese added.
That's what this game is about. There's so many different ways to win a ball game, and we kept battling and sneaked this one out tonight.
Slugger Albert Pujols saw Freese's homer on television after having briefly left the dugout.
I was in the video room, the three-time National League Most Valuable Player said. As soon as he hit it I went, 'Holy cow. He did it.' It was a really pretty swing.
By the time I took my last step onto the field, everybody was already celebrating at home plate. I was like, 'Wow.' This is unbelievable.
This is the best game that I've ever been a part of, Pujols added. Hopefully we can try to finish this up tomorrow. It's going to be even sweeter.
The Rangers appeared to have the game, and the World Series, won several times but the Cardinals simply refused to go quietly.
You had to be here to believe it, St Louis manager Tony La Russa said. We never quit trying. I know that's kind of corny, but the fact is we never quit trying.
The dugout was alive even when we were behind, and sometimes it works.
© Copyright Thomson Reuters 2023. All rights reserved.