French Regional Elections 2015: Paris Attacks Could Boost Far-Right Front National Party And Marine Le Pen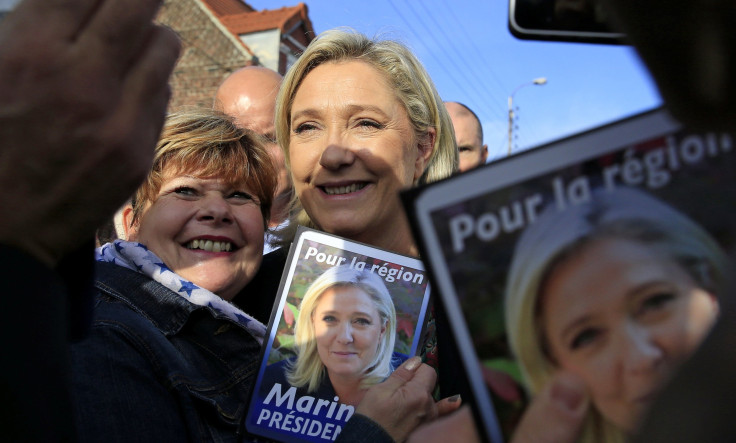 What were supposed to be regional elections that would offer clues to France's presidential elections in 2017 now appear to have gained far greater import in the course of a single night after the Islamic State group claimed responsibility for a string of deadly attacks in Paris in which at least 129 people so far have died. Now, the elections could be a litmus test for whether fresh Islamophobic and anti-immigrant rhetoric has fallen on newly sympathetic ears, and how political leaders who espouse such views, particularly Marine Le Pen, the far-right French politician who leads the Front National, might fare in 2017 presidential elections.
The attacks "allow the FN and Marine Le Pen to say, 'I told you so, we've been talking about this threat for years but nobody listened, so give us your vote,'" Madani Cheurfa, an analyst with the think tank Cevipov, told the Observer.
A historic crisis has rocked Europe since July, as hundreds of thousands of refugees, including Syrians, Afghans, Eritrea, Libyans, Somalis, Iraqis and Sudanese, have fled their war-torn homelands and sought safety in European countries. Yet they are not always welcome.
Le Pen said Saturday that France must take back control of its borders, for its own sake. "Islamist fundamentalism must be annihilated, France must ban Islamist organizations, close radical mosques and expel foreigners who preach hatred in our country as well as illegal migrants who have nothing to do here," she added.
A defeat in December's regional elections could seriously undermine Le Pen's efforts to win the presidency in 2017. Similarly, doing well regionally would fuel her presidential ambitions -- and could mean that her stances about immigration and Islamic fundamentalism resonate with voters. Already, polling has suggested that Le Pen would win in the Nord-Pas-de-Calais region, the Financial Times has reported. The northern region has high rates of unemployment and poverty, and Le Pen has previously described its residents as "neglected by the Socialist majority."
Although the Islamic State group, also called ISIS, has claimed responsibility for the attacks, who exactly the attackers were remains unclear. That information, if and when it comes to light, would likely further influence voters' stances on immigration, asylum policies and Muslims in France.
In 2012, Le Pen won 17.9 percent of votes in the presidential elections. But in local elections in March, her party won 60 seats and conservative parties overall made huge gains in local councils over previous years.
© Copyright IBTimes 2023. All rights reserved.
FOLLOW MORE IBT NEWS ON THE BELOW CHANNELS