After Islamic State Group Claims Responsibility For Paris Attacks, Muslims Around The World Defend Themselves, Their Faith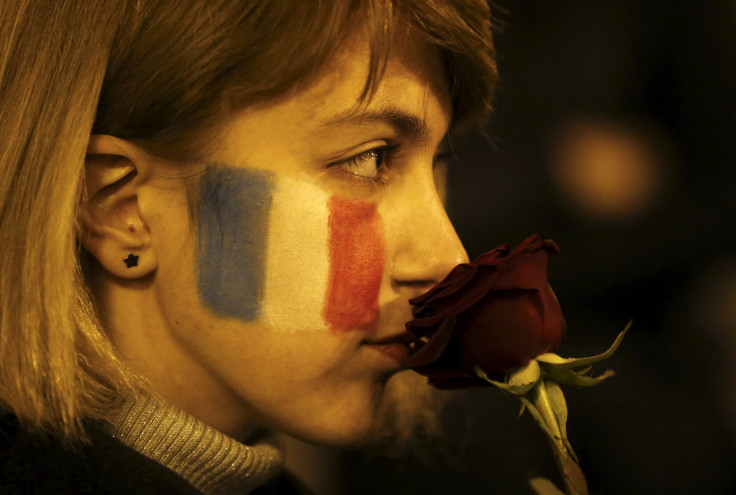 Muslims around the world have been left defending themselves and their faith yet again after the Islamic State group claimed responsibility for a string of deadly attacks in Paris on Friday night that killed at least 127 people. The overwhelming majority of the world's 1.97 billion Muslims do not adhere to the extremist beliefs of the group, also known as ISIS or ISIL, yet the word "Islamic" was attached yet again to the deadly attacks, and once more both Muslims and Arabs wondered how to counter entrenched perceptions linking Islam and terrorism.
Members of the Muslim and Arab community took to Twitter after the attacks, not only to express condolences and denounce the attacks and extremism, but also to urge the world to take note that Muslims have long done so.
Some recirculated a pre-existing GIF featuring news headlines of Muslim leaders condemning attacks by the Islamic State group and arguing "just because you're not listening doesn't mean the 99.997 percent of Muslims aren't speaking."
Others, like prominent Jordanian blogger Naseem Tarawnah, highlighted the fact that Islam does not condone terrorism and the killing of innocents.
Khaled Beydoun, an assistant law professor at Barry University in Florida and a columnist for Al Jazeera English, tweeted a graph showcasing a breakdown of terrorist attacks in Europe by what percentage were confirmed to be carried out by Islamists, or those who believe in a political version of Islam.
Yet others have nevertheless have been quick to link the attacks with Islam, particularly after news emerged that the gunmen who carried out the attacks in Paris reportedly shouted "Allahu Akbar," Arabic for "God is the greatest," as they did so.
"For the sixth time in 2015, Islamic terrorism has hit our country," Marie Le Pen, leader of the French right-wing anti-immigrant party National Front wrote Saturday on Twitter, calling for the destruction of Islamic fundamentalists.
It is a sentiment against which many have pushed back:
The Council of Senior Scholars, Saudi Arabia's highest religious body, condemned the attacks in Paris, saying in a statement Saturday, "Terrorists are not sanctioned by Islam and these acts are contrary to the values of mercy it brought to the world," Saudi news outlet Al Arabiya reported.
© Copyright IBTimes 2023. All rights reserved.