'Funny And Unscrupulous Clown' Trump Wins Some Support In China, Where Experts Say He Won't Be Able To Derail Bilateral Relations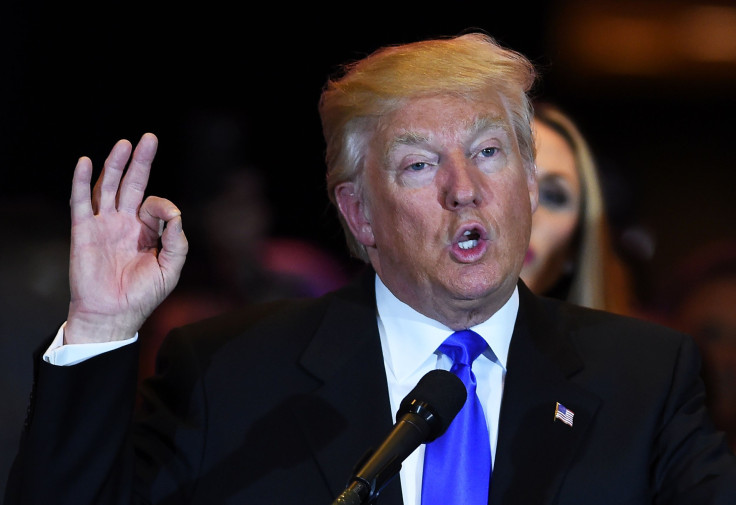 SHANGHAI — Donald Trump's success in the Republican primaries has aroused much interest in China, particularly since the front-runner has accused China of "raping" the U.S. economy, with which it has a massive trade surplus.
But while some commentators have criticized Trump — one official newspaper has previously called him a "racist" and likened him to Hitler — the majority of a group of leading Chinese international relations experts polled by Chinese media Thursday suggested he would "have to moderate his views if elected." And several suggested that while he might seek to put more pressure on China over the economy, they also thought Trump was less likely to pressure Beijing over ideological or geopolitical issues — including the island dispute in the South China Sea — than the "politically correct" Democratic hopeful Hillary Clinton. And many experts suggested the bilateral relationship was strong enough to withstand volatility.
China's foreign ministry spokesman Hong Lei declined to comment specifically on Trump's remarks or possible candidacy Thursday – but called for all involved to "rationally and objectively view" the relationship between the two countries, adding that "trade and business cooperation is mutually beneficial and win-win." The official Xinhua news agency, however, accused Trump of attacking China to "woo voters," and of getting his figures and economics wrong. Yet it also suggested he had a chance of beating Hillary Clinton, who it said "neither excites nor galvanizes her base."
And the official Global Times newspaper added, in a commentary, that Trump had "created history" and "deeply impressed U.S. politics." It suggested that, while he might call for China to open its markets wider, "If elected, Trump will be restricted by interior and exterior realities … He will be more prudent if taking office in the White House."
And the paper said that Trump's "isolationist" instincts meant "ideology will be downplayed" if he is elected — and contrasted this with Hillary Clinton, who it described as "representative of US political correctness and the mainstream thoughts."
It's a reminder that over recent decades, China's leaders are generally seen to have a preference for Republican presidents, who they regard as less likely to pressure the country over issues such as human rights.
And while four of the eight academics polled by the Global Times said it was still more likely that Hillary Clinton would win, only one, Jia Qingguo, dean of the School of International Studies at Peking University, said outright that a Trump presidency would be "no good news for the Sino-U.S. relationship."
Jia said that, in order to get elected, Trump would "criticize current U.S. policies, including those related to China," and would therefore be under pressure to "to take a hard stance against China" if he became president. A Democrat victory, he said, would "exert less influence on the Sino-U.S. relationship, as their policies and personnel are more stable."
But Jia suggested that there was no doubt that ordinary "Chinese citizens prefer Trump to Clinton" — and he said this was "understandable as the latter has criticized China a number of times over cyber security, human rights and so forth."
And the Global Times quoted a recent poll on its Chinese website, which it said showed that 54 percent of 3,300 respondents "said they liked Trump."
Another scholar, Wang Yiwei, director of Institute of International Affairs at Renmin University in Beijing, told the Global Times that "Chinese regard Trump as a clown, funny and unscrupulous," but added that it was hard to be sure whether Trump's "China bashing" would continue if he were elected.
"I think Trump as U.S. president will be good for Sino-US relations," Wang said. "Trump sticks to isolationism when it comes to foreign policy. He doesn't want the U.S. to bear so many global responsibilities. In contrast, Clinton initiated the Asia-Pacific rebalancing strategy which is aimed at containing China."
Another scholar, Zhao Minghao, dismissed Trump's speeches on China as "mere claptrap," saying he had got his figures wrong. And he warned that if the U.S. implemented "radical trade policies against China, this will not only hurt the interests of U.S. consumers and enterprises, but also impair the whole global trade system." But Zhao agreed that it was "hard to say whether China-bashing represents Trump's real attitude," and said that "the China-U.S. relationship cannot be easily shaken no matter who will become president."
Others polled by the Global Times echoed these views, with one saying that as "an unswerving advocate of free trade for decades," the U.S. would not make a sudden U-turn in its policy, even if Trump were elected; another suggested that Trump's "advocacy of nativism and isolationism is also a common approach adopted by U.S. politicians during elections, and will surrender to pragmatism in real actions."
And Jin Canrong, a veteran Beijing-based China watcher, stressed that "no matter who is elected to the White House, we should have confidence in the Sino-U.S. relations."
One reason for this, Jin said, was that the relationship was now tilted more in China's favor.
"As its national strength booms, China has become more capable to shape the trajectory of the Sino-U.S. relationship," he said.
It was a view echoed by the Global Times' editorial, which said that "Improving strength is the most reliable way to respond to the U.S. uncertainties."
And in a sign that whoever becomes president is likely to face a more assertive Beijing, the paper earlier this week called for the U.S. to moderate its policies in the South China Sea, where Washington has carried out several "freedom of navigation" missions close to islands reclaimed by China in disputed waters, which Beijing claims as its own. In another editorial, it said Beijing rejected such missions, along with attempts by the Philippines, which also lays claim to part of the disputed region, to seek international arbitration on the issue.
"This is not because China is growing tougher," the Global Times said, "but because the White House has touched China's bottom line. Washington should now reflect on this."
FOR FREE to continue reading
✔️ Unlock the full content of International Business Times UK for free
offer available for a limited time only
✔️ Easily manage your Newsletters subscriptions and save your favourite articles
✔️ No payment method required
Already have an account?
Log in
© Copyright IBTimes 2023. All rights reserved.