Donald Trump Says China Must Not Be Allowed To 'Rape' The US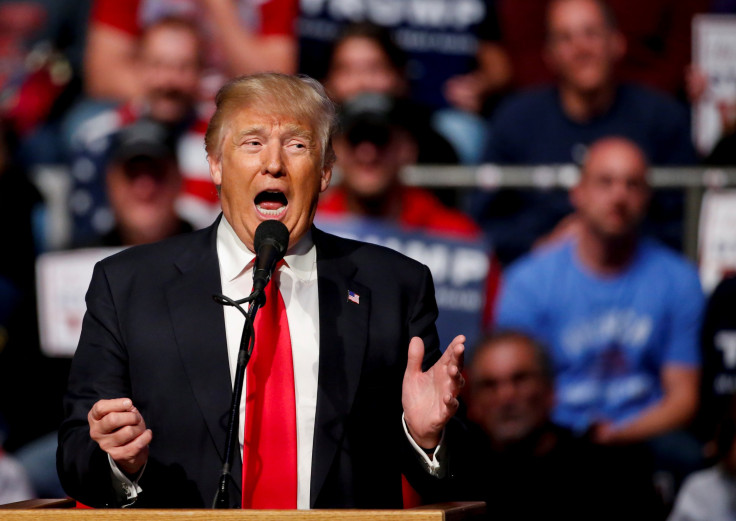 Republican presidential front-runner Donald Trump on Sunday likened America's trade deficit with China to "rape," accusing the Asian nation of "the greatest theft in the history of the world." Trump, who is currently leading the GOP nomination race by a wide margin, was speaking at a rally in Indiana ahead of the state's critical, and potentially decisive, primary later this week.
"We can't continue to allow China to rape our country, and that's what they're doing," Trump said. "We're going to turn it around. And we have the cards, don't forget it. We're like the piggy bank that's being robbed. We have the cards. We have a lot of power with China."
Trump has long accused China of currency manipulation that he says has hurt U.S. businesses and exports. In his campaign manifesto, the businessman, known for his provocative remarks that have, on more than one occasion, been called sexist, accused American politicians of "letting China off the hook."
"We have been too afraid to protect and advance American interests and to challenge China to live up to its obligations. We need smart negotiators who will serve the interests of American workers – not Wall Street insiders that want to move U.S. manufacturing and investment offshore," the Trump campaign proclaims in a statement published on its website. "When Donald J. Trump is president, China will be on notice that America is back in the global leadership business and that their days of currency manipulation and cheating are over."
Chinese officials, however, have denounced Trump's understanding of the country's economic relationship with the U.S. as "seriously wrong," and have expressed concerns over the billionaire businessman's "blinkered knowledge of U.S.-China business cooperation."
"Trump's foreign policy is more a scathing complaint about the current foreign policy establishment than a useful set of proposals to improve the wisdom of the White House," Chinese commentator Liu Zhun wrote in an op-ed for the state-run Global Times last week. "Without nuances and insights, most of his foreign policy will prove hollow, nationalistic and inconsistent."
Voters in Indiana will cast their ballots Tuesday. According to an NBC News/Wall Street Journal/Marist poll, Trump, who currently has 996 delegates, is expected to get the support of 49 percent of Republican primary voters, 15 percentage points more than Ted Cruz and 36 percentage points more than John Kasich.
© Copyright IBTimes 2023. All rights reserved.
FOLLOW MORE IBT NEWS ON THE BELOW CHANNELS