G20 to commit millions of dollars for new, innovative SME financing models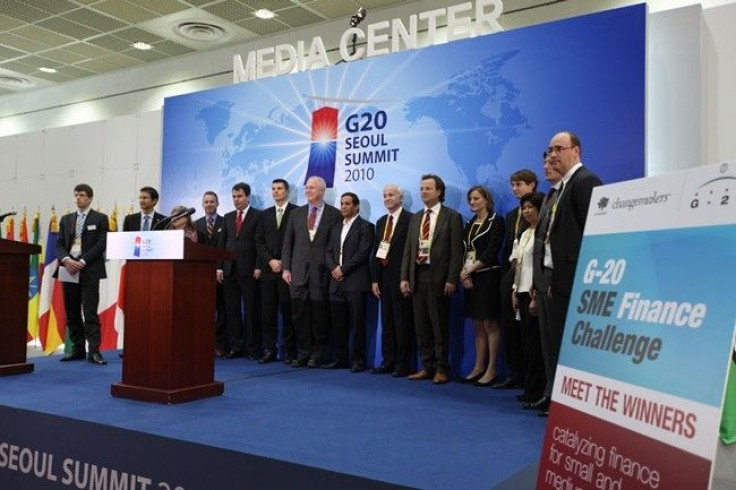 The Group of 20 meeting in Seoul Korea is likely to commit millions of dollars to creating a fund to help finance small and medium enterprises (SMEs) and innovative financing models.
Sources said Canada has indicated its willingness to commit around $20 million while other members may soon pitch in to create the fund that will be announced later on Friday in the final communique.
Announcing the fourteen winners of the SME Finance Challenge, Delyse Sylvester, director of Ashoka's Changemakers, a group that encourages social innovation, said, The fourteen Challenge winners demonstrated the world's most innovative finance models dedicated to unleashing the enormous potential of SMEs in emerging markets. Their global impact covered a wide range of strategies including training, risk management, visibility, and access to new markets.
The initiative is a cutting-edge search for the most innovative proposals to catalyze [financing] for the world's most powerful economic engines: Small and medium-sized enterprises (SMEs) said another statement.
The awards were given jointly by the G20 group, Ashoka's Changemakers and the Rockfeller Foundation.
The G20 had committed at its earlier summits to support the safe spread of new modes of financial service delivery to reach the poor and to scale up microfinance and other successful models of SME financing.
One of the recipients, Vineet Rai from the Aavishkaar Group in India which is into financing the SMEs and microfinance institutions, said such SME funding would go a long way in creating sustainable financing channel to help smaller businesses around the world.
The recipients of the awards include Equity for Africa, European Fund for Southeast Europe, Entrepreneurial Finance Lab, Peace Dividend Trust, Capital Tool Company, BiD Network, MFX Solutions, Root Capital, Aavishkaar, Bank of the Philippine Islands, Grassroots Business Fund, The Barefoot Angels Fund, responsAbility Social Investments AG, and Medical Credit Fund.
Equity for Africa provides transition investing for SMEs with a focus on jobs creation; European Fund for Southeast Europe works in war-ravaged Bosnia-Herzegovina; while Entrepreneurial Finance Lab is a fund developed at Harvard and funded by Google.org.
Dividend Trust works in post-conflict areas, Capital Tool Company focuses on suppliers' side of financing, BiD Network is an online connector of SMEs and investors, MFX Solutions helps in the mitigation of currency fluctuations by SMEs, Root Capital helps microfinance providers, Aavishkaar finances SMEs and microfinance institutions, Bank of the Philippine Islands specializes in renewable energy finance, Grassroots Business Fund supports high impact business like capacity building, Barefoot Angels offers affordable energy solutions like small lighting instruments, responsAbility is into into microfinance and SME financing, and Medical Credit Fund is active in Africa supplementing overtaxed public clinics.
© Copyright IBTimes 2023. All rights reserved.
FOLLOW MORE IBT NEWS ON THE BELOW CHANNELS