G7 Leaders Pledge To Phase Out Fossil Fuels, But Stop Short Of Setting Binding Emissions Targets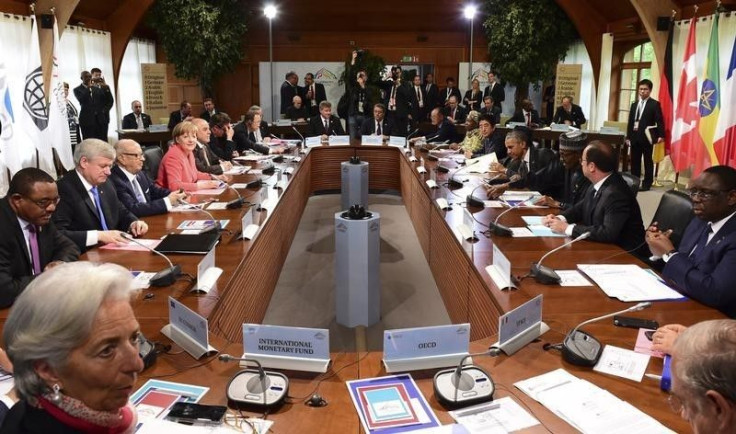 In a Monday announcement just months ahead of one of the most crucial climate talks in recent years, G7 leaders in Germany stated their "strong determination" to achieve a low-carbon global economy. While the ambitious steps include cutting greenhouse gas emissions by 40 to 70 percent by 2050 compared to 2010 levels, the leaders stopped short of setting binding targets.
"We affirm our strong determination to adopt at the Climate Change Conference in December in Paris this year (COP21) a protocol, another legal instrument or an agreed outcome with legal force under the United Nations Framework Convention on Climate Change (UNFCCC) applicable to all parties that is ambitious, robust, inclusive and reflects evolving national circumstances," the leaders said in a communiqué issued after the two-day G7 summit. "We support sharing with all parties to the UNFCCC the upper end of the latest IPCC recommendation of 40 to 70 percent reductions by 2050 compared to 2010 recognizing that this challenge can only be met by a global response."
In addition, leaders of the G7 nations, which cumulatively account for nearly a third of the global carbon emissions, also said that they would aim toward a complete "decarbonization" of the global economy by the end of the century -- a goal that would be extremely hard, if not impossible, to achieve.
"They've given important political signals, but they could have done more, particularly by making concrete national commitments for immediate action," Sam Smith, who leads the WWF's Global Climate and Energy Initiative, reportedly said.
Binding emissions targets, which the United Nations says are necessary to keep the rise in global temperatures to 3.6 degrees Fahrenheit over the preindustrial levels, have been opposed by several countries, including the U.S. where politicians are still debating the role man-made carbon emissions play in global warming.
The G7 urged its members to ensure that the Paris climate agreement is "ambitious, robust, inclusive and reflects evolving national circumstances." If finalized in December, the accord would go into effect in 2020.
The leaders also reaffirmed their commitments to provide at least $100 billion a year by 2020 -- through both public and private sources -- to assist developing countries in shifting their economies to low-carbon renewable sources of energy and to adapt to the impact of global warming. However, as of now, the U.N.-run Green Climate Fund has only managed to raise about $10 billion in commitments, a small fraction of the goal set for 2020.
"Currently rich countries provide just 2 percent of what poor countries need to adapt to a changing climate," Tim Gore, head of climate and food policy at international charity Oxfam, reportedly said, criticizing the G7 for its failure to specify how it would increase climate financing. "Developing countries need a credible financial roadmap, not a set of accounting tricks."
© Copyright IBTimes 2023. All rights reserved.