G7 Leaders Suspend Russia From International Coalitions, Shift Sochi Meeting To Brussels; Russia Unfazed By Threats and Suspension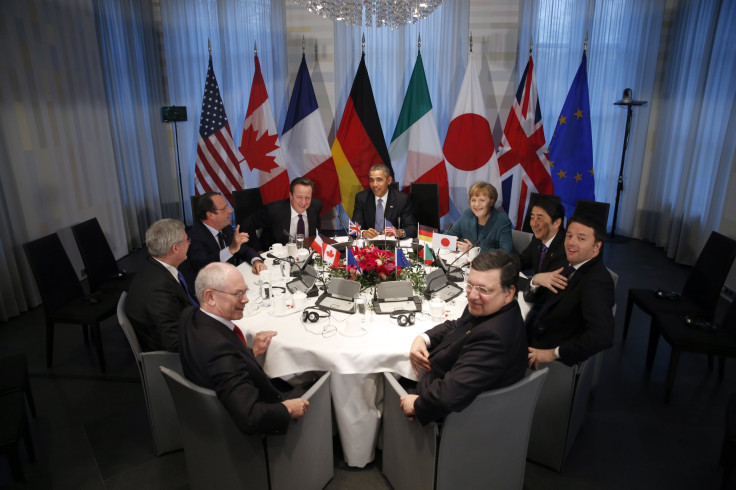 The U.S. and its allies decided to boycott Russia Monday by cutting it off from major coalitions, cancelling the G8 Summit in Sochi and moving it to Brussels, and threatening further sanctions on Russia if it moves further into Ukraine, even as the two countries belonging to the former Soviet Union met on the sidelines to discuss future steps to diffuse tensions in the Crimean peninsula.
Canada, France, Italy, Germany, Japan and the UK met at an emergency meeting in The Hague, Netherlands, on Monday and declared that Russia's presence in Crimea violates international laws, and condemned the "illegal referendum held in Crimea in violation of Ukraine's constitution," the White House said in a statement.
"Under these circumstances, we will not participate in the planned Sochi Summit. We will suspend our participation in the G-8 until Russia changes course and the environment comes back to where the G-8 is able to have a meaningful discussion and will meet again in G-7 format at the same time as planned, in June 2014, in Brussels, to discuss the broad agenda we have together. We have also advised our Foreign Ministers not to attend the April meeting in Moscow," the White House statement, issued from The Hague meeting, added.
However, Russia seemed unfazed by the punitive actions and its suspension from the Group of Eight, as Lavrov reportedly said: "If our Western partners believe that such format is no longer needed, let it be so" adding that Russia is not "clinging for that format, and we won't see a big problem if there are no such meetings for a year, or a year-and-half," Associated Press, or AP, reported.
Meanwhile, Russian Foreign Minister Sergei Lavrov held talks with his Ukrainian counterpart, Andriy Deshchytsia, also at The Hague, marking the first high-level discussion after Russia's annexation of Crimea, to discuss future steps the Ukrainian government should take, according to Moscow, to reduce tensions in the Crimean peninsula.
And, while the U.S. and other countries who attended the meeting at The Hague discussed increasing financial assistance to Ukraine, Russian Prime Minister Dmitry Medvedev expressed concerns over Crimea's dependency on Ukraine for crucial utilities after the peninsula continued to face partial blackouts after Ukraine began cutting off supplies Sunday.
"Another infrastructure problem is Crimea's dependence on Ukrainian power and water supplies. This dependence periodically makes itself felt, including last night. It is necessary to settle this issue at international talks but we must choose the best option for supplying the peninsula," Medvedev said at an internal meeting Monday, according to the Russian government.
U.S. President Barack Obama also met with China's President Xi Jinping separately at The Hague, in another attempt to further alienate Russia from the international community.
"I believe ultimately that by working together, China and the United States can help strengthen international law and respect for the sovereignty of nations and establish the kind of rules internationally that allow all peoples to thrive," Obama said, according to AP.
© Copyright IBTimes 2023. All rights reserved.