G7 Summit 2015: Buhari Requests Help For Boko Haram In Nigeria, Economy In 'Wish List' For Group Of Seven Leaders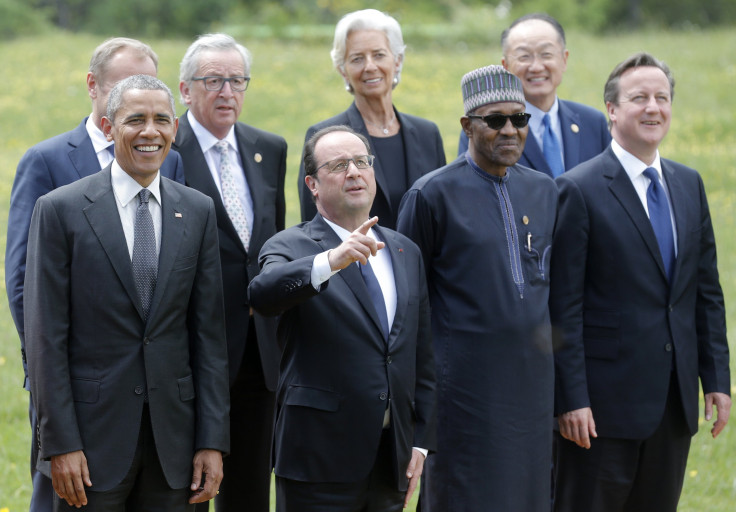 Nigerian President Muhammadu Buhari arrived in Germany Monday armed with a "wish list" for the Group of Seven summit, his spokesperson said in a statement. The newly elected president requested help on Boko Haram and Nigeria's economy from G7 leaders at the summit in the Bavarian Alps, local media reported.
The G7 leaders invited Buhari to the summit along with other so-called outreach guests -- the leaders of Senegal, Ethiopia, Liberia, South Africa, Tunisia and Iraq. Climate change topped the agenda for the final day of the two-day summit, at which the world leaders also discussed African development, the fight against terrorism from Boko Haram to the Islamic State group as well as combating epidemics and other health issues. Buhari was expected to receive ample support from the G7 industrialized nations given the challenges they faced engaging with Nigeria's previous administration of Goodluck Jonathan, experts said.
"I think there is very strong goodwill towards Nigeria," Tim Murithi, head of program at the Institute for Justice and Reconciliation in Cape Town, South Africa, said in an interview with Deutsche Welle. "So Buhari is in what you would call a honeymoon period at the moment, and I believed the rest of the world, the international community, would like to see Nigeria play a much more pivotal role in Africa, which historically it has played."
Thousands of Nigerians have suffered under Boko Haram's brutal insurgency in the northeast for the past six years. More than 15,000 people have died, and nearly 1.5 million others have been displaced in Nigeria since 2009. Nigerian troops have recaptured most territories from Boko Haram in recent months, with the help of coalition forces from neighboring countries. Still, the Islamist militants recently struck back in a spate of deadly attacks in Borno state, the heartland of Boko Haram.
Apart from terrorism, Buhari requested support from the world leaders on Nigeria's economy, infrastructure, corruption as well as power and energy. The president also sought assistance in environment, good governance and enhanced transparency in elections. Buhari had said the G7 nations have shown readiness to work with the West African country on its areas of need, Vanguard news in Abuja reported.
However, the G7 leaders still regard Nigeria and other African nations as recipients of aid rather than partners in global affairs, experts said. "I think that perception has not yet changed," Murithi told Deutsche Welle on Monday. "The G7 countries to a large extent have almost a paternalistic relationship with the rest of the developing world, Africa in particular."
© Copyright IBTimes 2023. All rights reserved.
FOLLOW MORE IBT NEWS ON THE BELOW CHANNELS