G-7 Summit: Obama, Hollande Agree To Push For Russian Sanctions And Iran Nuclear Deal, White House Says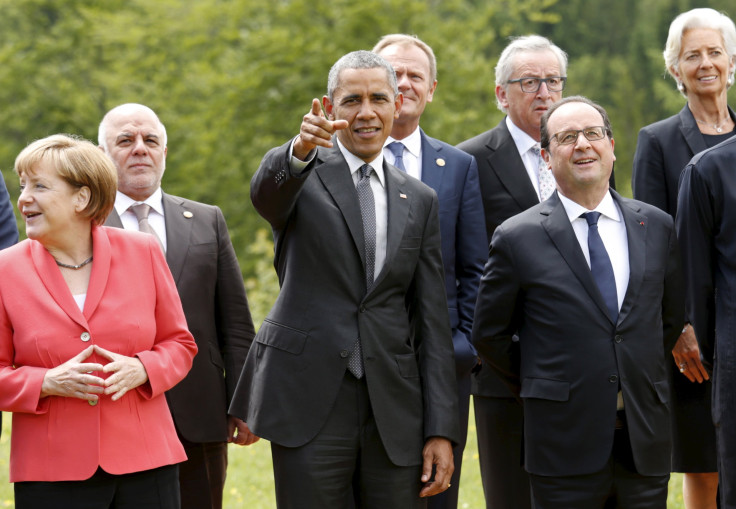 U.S. President Barack Obama and his French counterpart Francois Hollande have reached an agreement on several major issues, including sanctions against Moscow over the prolonged conflict in eastern Ukraine and Iran's talks with Western powers over its nuclear program, the White House said Monday.
The two leaders had met earlier in the day at the sidelines of the ongoing G-7 summit in Elmau, Germany. Obama and Hollande agreed that economic sanctions against Russia must remain in place until it fully implements the Minsk peace accords that call for a ceasefire in eastern Ukraine and the withdrawal of heavy weaponry, the Associated Press reported. The ceasefire has been repeatedly violated by both sides.
Russian President Vladimir Putin has claimed that Kiev is stalling the ongoing peace process. He has also called for the two breakaway regions, Luhansk and Donetsk, to remain a part of Ukraine. Leaders of the self-declared rebel republics have said that they may be open to the option if Ukraine meets the conditions of the ceasefire.
Obama also called upon other world leaders to extend sanctions against Moscow, despite unease in Europe that they have not been effective. Italy and Spain had both refused to agree to a previous agreement to extend the sanctions earlier this year. However, Russia's economy has been significantly weakened by the wide-ranging sanctions.
Obama and Hollande also agreed that ongoing talks with Iran over its nuclear program should be pursued. Paris had previously taken a tougher stance on the talks, with French diplomats pressing Washington to also take a harder line against Tehran, and warning that the Iran-imposed deadline for the talks is "artificial." Iranian officials have also said that they may be willing to extend the June 30 deadline for an agreement.
Obama and Hollande also reportedly discussed other issues, including climate change, Islamist extremism in Iraq and Syria, and global trade.
© Copyright IBTimes 2022. All rights reserved.
FOLLOW MORE IBT NEWS ON THE BELOW CHANNELS