Gadhafi Leaves 1,000 Ostriches in Desert to Die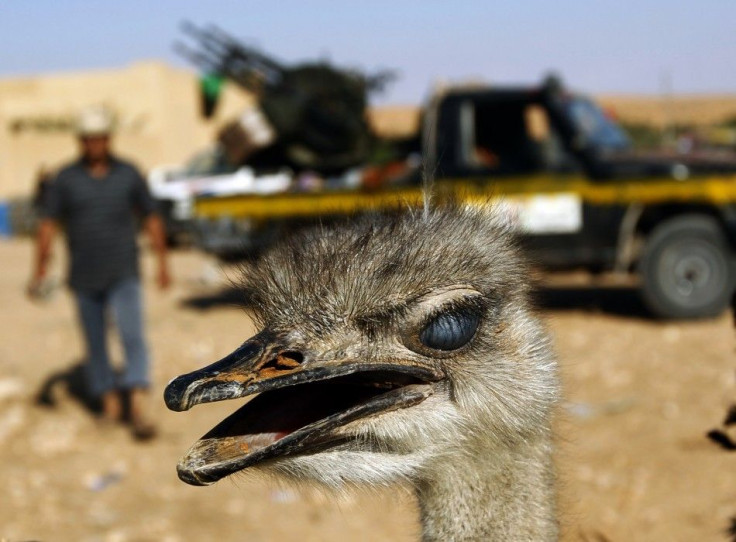 Although the National Transitional Council is working to move the country forward, Moammar Gadhafi's legacy can still be felt in Libya, sometimes in strange ways.
Volunteers in the embattled city of Sirte are currently caring for 500 ostriches once owned by the Libyan dictator that were left without food or water when loyalists fled the city.
There were apparently once 1,000 birds at the Wadi Bai farm, but many have died in the hot desert sun.
Gaddafi didn't care for people, he killed them with tanks. How can you expect him to care about his animals? rebel commander Abu Bakr Essa told Reuters.
The farm also has several flocks of camels, cattle, sheep and other livestock.
We tell the people not to steal them, said volunteer caretaker Al Siddeiq Al Fitory, who told Reuters that hungry Libyans want to eat the animals.
We tell them 'those animals are for all Libyans, and you should get authority or a license from all the Libyans to get any' . and they go without any problem, added Al Fitory.
The ostriches were just the latest symbol of the opulent lifestyle once enjoyed by Gadhafi and his inner circle.
When the rebels over ran Gadhafi's Bab al-Azizya compound in Tripoli in August, they unearthed a genuine treasure trove, including ceremonial weapons, bejeweled ornaments, chandeliers and many, many portraits. A few men took away military costumes and hats.
I just went inside his room, Gadhafi's bedroom, and I was really, I was like 'Oh my God'. I am in Gadhafi's room. Oh my God. Then this thing happened. I found this, oh my goodness, a rebel told Reuters, referring to a flamboyant military-style hat.
I am going to give this to my dad as a present because he has suffered a lot from Gadhafi and from Gadhafi followers, he continued.
Perhaps the strangest item found in the compound is the photo album of former U.S. Secretary of State Condoleezza Rice. Gadhafi had an affection for the politician he knew as his darling black African woman, and apparently kept her images close at hand. The album was filled with photos and magazine clippings of Rice collected over the years.
I admire and am very proud of the way she leans back and gives orders to the Arab leaders. Gadhafi told Al Jazeera last year, the New York Times reported. Yes, Leezza, Leezza, Leezza... I love her very much.
Gadhafi's children lived in decadence as well. His daughter Aisha lived in a gold-themed mansion complete with gilded mermaid sculptures and busts of her own likeness. Over the weekend, Libyan children visited the house to play in Aisha's indoor swimming pool.
Rebels also seized the home of Hannibal Gadhafi, confiscating bottles of expensive wine and Cristal champagne, and enjoying labyrinthine pools and white grand pianos.
Exotic animals were also a running theme, and Gadhafi's son Saadi personally owned nine of the 18 lions in the Tripoli zoo. He apparently cared deeply for the cats and visited them -- escorted by armed security -- everyday, even after the war in Libya broke out.
His brother Saif al-Islam aslo owned two albino lions which he bought while studying in Austria, and also kept tigers, gazelles and other exotic pets at his farm outside the capital.
Saadi and Saif al-Islam abandoned the animals sometime between July and August.
© Copyright IBTimes 2023. All rights reserved.