Gadhafi's Bizarre Treasure Trove: Condi Rice Album, Gold Mermaids and More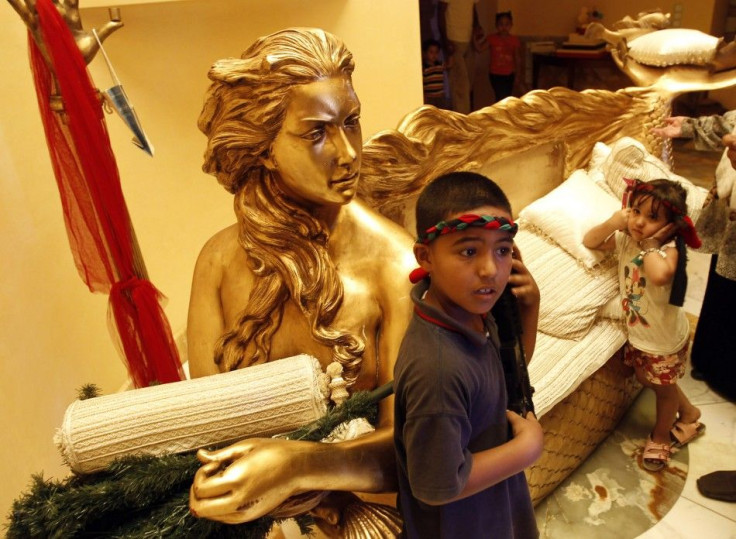 Libyan rebels rejoiced in Tripoli as both the holy month of Ramadan and the Moammar Gadhafi regime came to their apparent ends.
While anti-Gadhafi forces continue to fight in loyalist strongholds such as Bani Walid and Sirte, rebels in the capital are capturing the Libyan leader's assets one by one.
Last week, rebels tore through Gadhafi's Bab al-Azizya compound, which was the Colonel's Tripoli home and stronghold. They faced little resistance in taking the base, but were hit by a pro-Gadhafi counter-attack days latter. The rebels are now in control of the city, and are busy sweeping the compound for trophies.
Perhaps the strangest item found in the compound is the photo album of former U.S. Secretary of State Condoleezza Rice. Gadhafi had an affection for the politician he knew as his darling black African woman, and apparently kept her images close at hand. The album was filled with photos and magazine clippings of Rice collected over the years.
"I admire and am very proud of the way she leans back and gives orders to the Arab leaders." Gadhafi told Al Jazeera last year, the New York Times reports. "Yes, Leezza, Leezza, Leezza... I love her very much."
According to one of Rice's aides, Gadhafi showed the Secretary of State a version of the book during her 2008 visit to Libya. He also presented her with lavish gifts, such as a diamond ring and a locket containing a picture of Gadhafi inside. Per government regulations, Rice was not allowed to keep the presents, and they are being stored in Washington.
On Monday, rebels showed off Gadhafi's $120 million private jet, giving visiting journalists tours of the leather-trimmed bedroom and living quarters. The plane's interior was decorated in silver and red, and rebels were careful not to disturb the 24 karat gold china.
At the Bab al-Azizya compound, resistance fighters unearthed a treasure trove of opulence, including ceremonial weapons, bejeweled ornaments, chandeliers and many, many portraits. A few men took away military costumes and hats.
I just went inside his room, Gadhafi's bedroom, and I was really, I was like 'Oh my God'. I am in Gadhafi's room. Oh my God. Then this thing happened. I found this, oh my goodness, a rebel told Reuters, referring to a flamboyant military-style hat.
I am going to give this to my dad as a present because he has suffered a lot from Gadhafi and from Gadhafi followers, he continued.
Images of rebels stepping on the golden head of a Gadhafi statue have become a poignant symbol of the revolution, much like the destruction of Saddam Hussein's statue in Baghdad did in 2003.
Rebel fighters are now exploring the many underground tunnels connected to Bab al-Azizya. It was long suspected that Gadhafi had underground shelters and escape routes, and it is possible that he escaped Tripoli thanks to miles of tunnels beneath the city.
Gadhafi's children lived in decadence as well. His daughter Aisha lived in a gold-themed mansion complete with gilded mermaid sculptures and busts of her own likeness. Over the weekend, Libyan children visited the house to play in Aisha's indoor swimming pool.
Rebels also seized the home of Hannibal Gadhafi, confiscating bottles of expensive wine and Cristal champagne, and enjoying labyrinthine pools and white grand pianos. But they also found Shweyga Mullah, Hannibal's Ethiopian maid, who was discovered with terrible burns and wounds. Mullah told reporters that she had been tortured by the family, in particular Hannibal's wife Aline.
She took me to a bathroom and tied my hands behind my back, and tied my feet, Mullah told CNN. She tied my mouth...and she started pouring the boiling water on my head.
Gadhafi's whereabouts are still a mystery, but the search continues. A bodyguard of one of Gadhafi's sons said that the Libyan leader is now heading south from the capital to Sabha, according to The Guardian. Earlier Tuesday, it was reported that Gadhafi and Saif al-Islam were either in Sirte or moving to Bani Walid. NATO struck three targets in Bani Walid Monday and has been providing rebels with air support in Sirte.
© Copyright IBTimes 2023. All rights reserved.