Gallipoli Centenary: Preparations For World War I Battle Commemoration Include Tight Security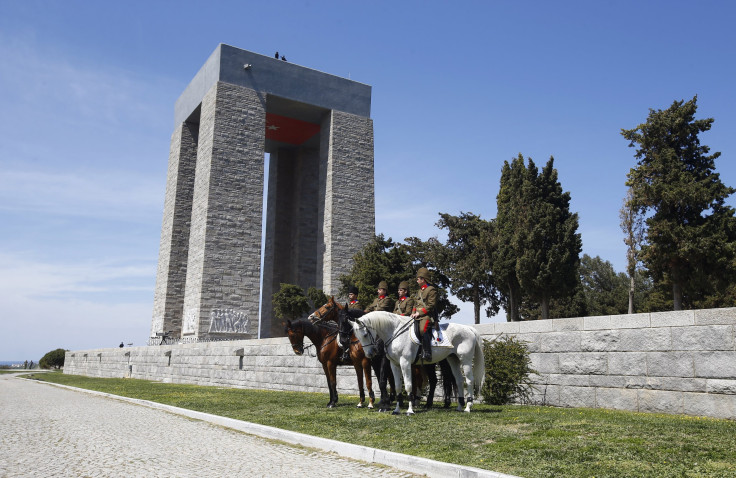 A recent spate of arrests in Australia and the U.K. over alleged terror plots to disrupt the commemoration of the centenary of the Gallipoli campaign have raised fears over security arrangements during planned events around the world.
Leaders from Australia, New Zealand, the U.K. and Turkey are scheduled to attend a series of events, at home and abroad, on Saturday. However, because Turkey shares a long and porous border with Syria -- a hotbed of Islamic State group jihadists -- the threat of terror attacks during the planned ceremonies is a prime concern for security forces. At Turkey's Gallipoli Peninsula, officials have warned the nearly 10,000 visitors planning to attend a dawn ceremony tomorrow of "uncomfortable" security measures, according to media reports.
"I have been at pains to tell people that this is going to be uncomfortable, but I think most people understand," Michael Ronaldson, the Australian minister for veterans' affairs, reportedly said. "I think most people understand that a level of discomfort, quite frankly, pales into insignificance to what happened here 100 years ago."
The Gallipoli campaign, which was a naval attack by the Allies launched with an aim to capture the Ottoman capital of Constantinople, is largely considered the greatest defeat of the Allied forces during the Great War. Over 140,000 soldiers were killed in the campaign, including 55,000 Allied forces and 86,000 Turkish troops. In New Zealand and Australia, the day is commemorated as Anzac (Australian and New Zealand Army Corps) Day.
Anzac Day "is the premier target in terms of national identity. If you were going to make a splash this has got to be on your wish list," Al Gillespie, an international relations expert at Waikato University, who also advises the New Zealand government on foreign affairs, told the Wall Street Journal. "The region is just going to be flooded with high-value potential targets."
Homegrown terrorism has become a major problem for Australia, which is also the biggest per capita contributor of foreign jihadists to ISIS.
"Wherever you go in the world today, there is a security issue and countries such as ours are living with heightened threats," Australian Prime Minister Tony Abbott, who will be attending a ceremony on the banks of the Dardanelles strait in northwest Turkey on Saturday, said on Monday. "Certainly, at Anzac events in Australia over the next few days there will be a visible security presence, and on the Gallipoli Peninsula there will be a strong security presence organized by the Turkish Government."
The event at Dardanelles will also be attended by several other world leaders, including New Zealand's Prime Minister John Key and the U.K.'s Prince Charles.
"All the soldiers who took part in this battle deserve to be commemorated with respect for their bravery," Turkish President Recep Tayyip Erdogan reportedly said, during a symbolic "summit for peace" in Istanbul on Thursday. "It was an epic achievement by your ancestors and ours a hundred years ago that has not been forgotten."
© Copyright IBTimes 2023. All rights reserved.
FOLLOW MORE IBT NEWS ON THE BELOW CHANNELS