Gay Marriage 2015: Texas Senator Wants To Impeach Supreme Court Justices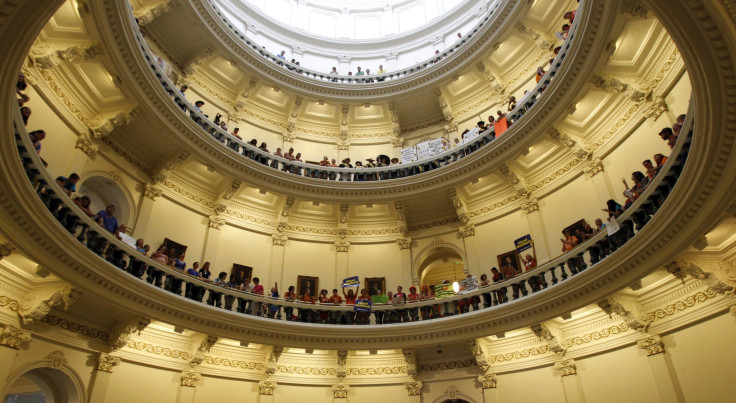 Texas state Sen. Cecil Bell says he has had it with the U.S. Supreme Court's trampling on states' rights. After the court handed victories to progressives -- ruling last month that federally backed affordable healthcare and same-sex marriages should be allowed nationwide – Bell issued a challenge to fellow conservative Republican and Libertarian lawmakers.
Sign the "Pact for Constitutional Restoration of State Sovereignty" and commit to limiting the current power of the Supreme Court and federal government over state laws, the senator said on Monday. The pact is a directive to state and national lawmakers who have opposed gay marriage and the Affordable Care Act and want to stop the laws' enforcement, according to a report by the Montgomery County Courier newspaper. Bell also wants members of Congress to seek charges of impeachment against the justices who ruled in favor of marriage equality and the Affordable Care Act.
"The purpose behind [the pact] is to answer what the constituents asked not only in my district but across Texas, including people I do business with outside of Texas," Bell, a Republican who represents the ultra-conservative Montgomery County, said in a statement. "That question being: What can we do? We have a Supreme Court acting outside of law or of constitutional authority, not just in the opinion of me, but also the opinion of the Chief Justice (Roberts)."
As the Supreme Court wrapped up its spring term in late June, justices issued landmark and historic decisions on President Barack Obama's federal health care law and the rights of gay and lesbian couples to marry. In a 6-3 decision released June 25, the court held that tax credits for Americans on a federal health care exchange, in the 34 states without state-established exchanges, were constitutional. A 5-4 decision on June ended all state bans on same-sex marriage and requires states to recognize marriages legally performed in other states.
Bell said the 10th Amendment to the U.S. Constitution has been disregarded to allow the court and the federal government to overrule states that oppose marriage equality and the federal health care subsidies. The first step in his pact requires governors and state elected officials to "take a formal stand for the constitutional, sovereign power of the separate states and of the people of the states," and disobey what Bell calls "unconstitutional edicts."
Bell also wants state legislatures to pass laws stripping the ability of federal courts to review or hear challenges to state laws and executive orders issued by lawmakers in those states. To see a document of Bell's pact, click here.
© Copyright IBTimes 2023. All rights reserved.
FOLLOW MORE IBT NEWS ON THE BELOW CHANNELS