Gay Men In Africa: Tanzania Government To Publish List Of Homosexual Sex Workers After Shutting Down HIV Clinics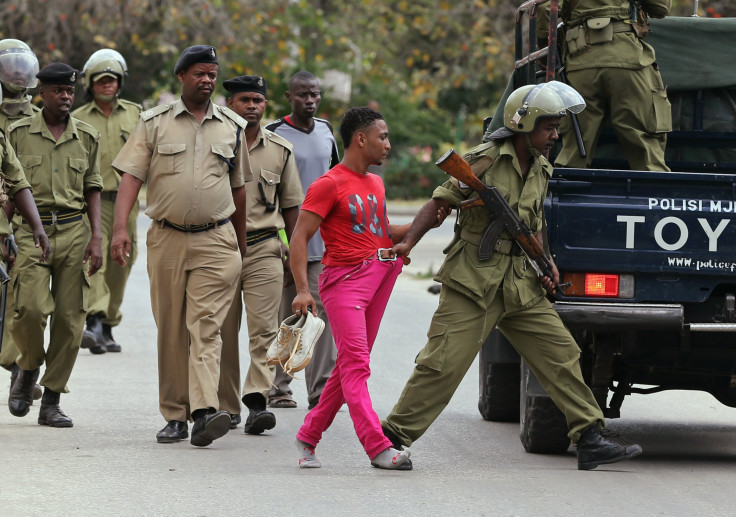 Tanzania's government was expected to publish a list of gay people selling sexual services online, Deputy Health Minister Hamisi Kigwangalla said Saturday. The announcement came days after the country shut down numerous HIV clinics because they allegedly promoted homosexuality.
It was already illegal for people to be gay in Tanzania, a country of about 50 million people on the east coast of Africa. Sex between two males was punishable by up to 30 years in prison. Men who were suspected of being gay have been detained and undergone anal tests to examine whether or not they engaged in gay sex.
Kigwangalla took to Twitter over the weekend, writing in both Swahili and English, and defended Tanzania's policies by calling homosexuality "unnatural."
"I will publish a list of gay people selling their bodies online," Kigwangalla said. "Those who think this campaign is a joke, are wrong. The government has long arms and it will quietly arrest all those involved. Once arrested, they will help us find others."
Thursday, the government also announced its plan to stop private health centers from providing HIV and AIDs services to its patients. An estimated 23 percent of gay men live with HIV/AIDs, said Health Minister Ummy Mwalimu last year. The Washington Post cited a larger figure in November, stating that about 30 percent of gay men were HIV-positive.
"We have suspended the provision of HIV and AIDS services at at least 40 drop-in centers operated by NGOs countrywide, after it was established that the centers were promoting homosexuality, which is against Tanzania's laws," Mwalimu said after the HIV clinic announcement Thursday.
In October of last year, Tanzania suspended community HIV/AIDs prevention programs aimed at educating gay men — some of those programs were funded by the U.S.
Two of Tanzania's neighbors in eastern Africa, Uganda and Kenya, have also implemented strict laws against homosexuality. In 2014, Uganda passed a law that would give gay people the death sentence, although that law was later annulled.
© Copyright IBTimes 2023. All rights reserved.