'Gay Parties' Raided In Saudi Arabia; Religious Police Arrest Several People On Suspicion Of Homosexuality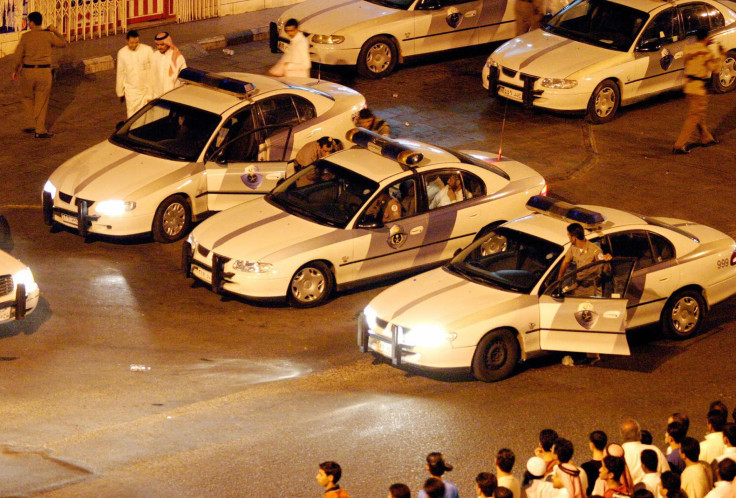 Authorities in Saudi Arabia arrested several people on suspicion of homosexuality in raids on two parties in the city of Jeddah, the Dubai-based Gulf News site reported Sunday. The latest LGBT crackdown in the conservative kingdom saw members of the religious police conduct simultaneous raids on the "gay parties," held in the Red Sea city's Harzat district.
"The raids led to the arrest of several people, mainly gays, and netted locally produced alcoholic drinks and hashish," a source connected to the raids told Gulf News. "Those who were arrested were referred to a police station while those who fled the premises will be summoned since they were all identified."
Members of the religious police, also known as the Commission for the Promotion of Virtue and the Prevention of Vice, reportedly recorded the license plate numbers of all of the cars parked near the party venues prior to the raids in order to be able to track down anyone who managed to escape.
Homosexuality is illegal under Saudi Arabia's strict interpretation of Islamic Shariah law, which holds that any married man found engaging in homosexual acts can be stoned to death. Other punishments for those found guilty of homosexuality include imprisonment, flogging, chemical castration and execution.
A court in Saudi Arabia's eastern port city of Dammam sentenced a man in November to three years in prison and a fine of 100,000 Saudi riyals (about $26,000) for allegedly engaging in "immoral acts." In July, a 24-year-old man in the city of Medina was sentenced to three years in jail and 450 lashes after a court found him guilty of "promoting the vice and practice of homosexuality."
Many LGBT people in Saudi Arabia are already accustomed to being hypervigilant about keeping their sexual orientation secret over fears of discovery by the religious police. "I've been invited to private parties for gay men in Jeddah, but I never go because I know what would happen if we were caught," Samir, a gay man living in Saudi Arabia, told the Associated Press in an interview. "You can't let a word slip that makes you seem gay-friendly or gay. Before you make a move you have to think."
In recent years, Saudi politicians have been pushing for a tougher crackdown on homosexuality, including immigration measures against LGBT expatriates living in the kingdom that would allow for prompt deportation, Gulf News said. In 2013, a health official sparked criticism after proposing a ban on gay or transgender foreign workers in the entire Gulf Cooperation Council, including Saudi Arabia and neighbors like Kuwait, Qatar and the United Arab Emirates.
© Copyright IBTimes 2022. All rights reserved.
FOLLOW MORE IBT NEWS ON THE BELOW CHANNELS