George Floyd Protests: Thousands Gather In London, Berlin, Toronto To Support 'Black Lives Matter'
KEY POINTS
Non-violent street rallies protesting the murder of George Floyd erupt in the United Kingdom for the second straight day Sunday
Peaceful protests are also held in Copenhagen, Toronto and Berlin
The common message : "Stop Killing Black People"
Street protests demanding justice for the slain George Floyd and condemning American police brutality and endemic racism in the United States continued in London and broke out in several other cities in the United Kingdom Sunday. Protests drawing thousands of demonstrators erupted in Toronto, Canada; Berlin, Germany and Copenhagen, Denmark also on Sunday. Protests in other major world cities are expected this week.
The U.K. protests began Saturday in Peckham, south London. The Sunday rallies drew thousands of angry Londoners brandishing signs declaring, "I can't breathe," "Say his name: George Floyd," and "Justice for George Floyd."
The London protest groups massed at Trafalgar Square Sunday afternoon to "knee for Floyd." They marched from Trafalgar Square to the 10 Downing Street gates. Other groups voiced their anger outside the U.S. Embassy at Nine Elms Lane where they also held a sit-in protest. There were no reports of violence in any of the George Floyd protests in the U.K.
Tweets from some of the British protesters said they took to the street to stand in solidarity with Black Lives Matter, George Floyd and protestors across the world.
The second day of anti-racism protests in Floyd's name in the U.K. came on the sixth day of protests and violent riots in the U.S. marred by widespread looting and arson in more than a dozen cities. The National Guard in at least 24 states has been mobilized to deal with the growing menace of civil disorder. More than 1,700 people have been arrested in the U.S. since Thursday and a 19-year-old teenager was shot dead in Detroit Friday by a man that fired into a crowd of protestors.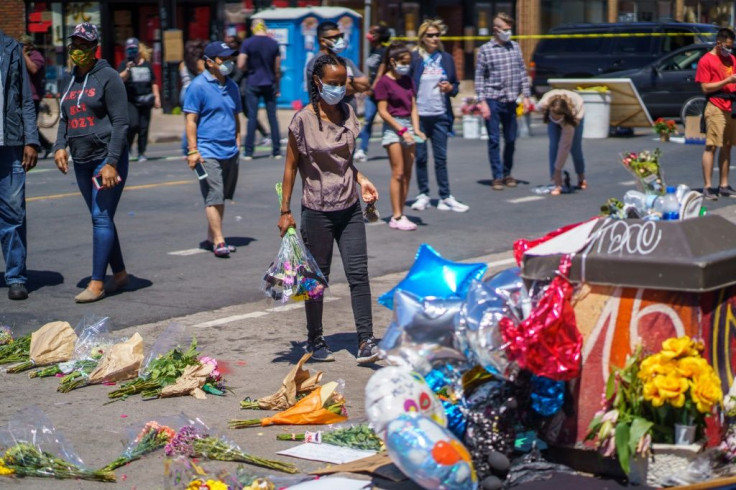 British media reports more peaceful protests are scheduled to take place in Hyde Park on June 3, Parliament Square on June 6 and the U.S. Embassy on June 7. There were concerns among the organizers, the BlackLivesMatterUK group, about the wisdom of holding more rallies in the midst of the raging COVID-19 pandemic still sweeping the U.K. The country's death toll from COVID-19 stands at more than 38,400.
In Berlin, thousands of protestors assembled to protest Floyd's death Saturday and demanding justice for Floyd. They gathered outside the U.S. embassy located on Pariser Platz 2 close to the historic Brandenburg Gate. Germans held aloft placards reading, "Black Lives Matter," "Justice for George Floyd," and "Who do you call when police murder?" The Berlin Police reported no violent incidents associated with the Floyd protest.
Danish protestors milled outside the U.S. embassy in Copenhagen toting placards with messages such as, "Stop Killing Black People."
In Canada, thousands of people massed at Toronto's Christie Pitts Park Saturday and marched throughout the city to the headquarters of the Toronto Police Service along College Street to protest Floyd's murder. They also protested the death of Regis Korchinski-Paquet, a woman that died last week after falling from her 24th-floor balcony after police officers were called to her home. Toronto police are investigating the incident.
© Copyright IBTimes 2023. All rights reserved.