George W Bush Calls Grand Jury Decision Not To Indict In Eric Garner's Death 'Sad,' 'Hard To Understand'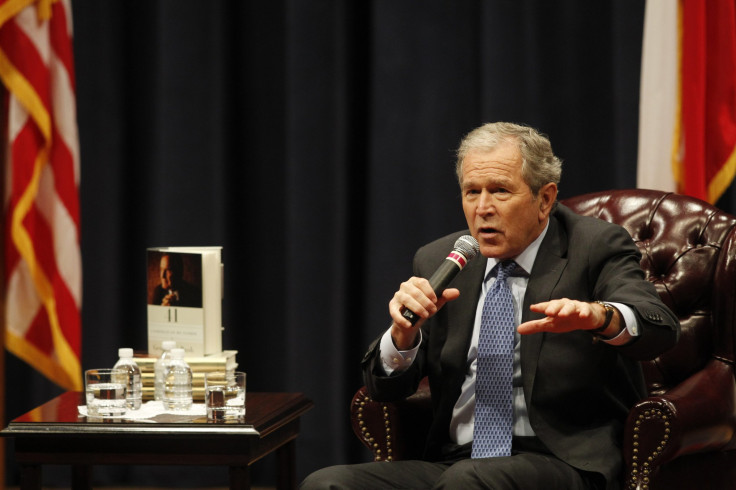 Former U.S. President George W. Bush called a grand jury's decision not to indict New York Police Department Officer Daniel Pantaleo over the death of Eric Garner "hard to understand" during an interview with CNN. Bush, who has previously been accused of "not caring about black people," told CNN he found it "sad" that race remains such a factor for many Americans.
"I thought, 'How sad,'" Bush said. "The verdict was hard to understand. I haven't seen all the details, but it's sad that race continues to play such an emotional, divisive part of life."
CNN's interview with the 43rd president will be shown in its entirety on "State of the Union" Sunday at 9 a.m. EST. Bush's commentary on Pantaleo and Garner was featured in one of a few clips released by the network. On the topic of race relations, Bush said he believes the country has "definitely improved." However, he added that he had dinner recently with former Secretary of State Condoleezza Rice, who told him an increasing number of African Americans do not trust law enforcement. "Which is a shame," Bush said, "because law enforcement's job is to protect everybody."
Bush also talked politics during the interview, as well as about his close relationship with former President Bill Clinton. Along this line, he discussed a potential Bush-Clinton faceoff in the 2016 presidential election, between his brother Jeb Bush and the woman he affectionately called his "sister-in-law" Hillary Rodham Clinton.
"I think he'd beat her," Bush said. When pressed on whether would take a bet on his brother against Clinton, he responded, "Absolutely." Bush has said in recent interviews that he has urged his brother to run for president. Jeb Bush has not announced that he'll make a run, saying this week that he plans to make a decision early next year.
"He's seen what it's like to be the son of a president," Bush said. "He's seen what it's like to be the brother of a president. And therefore he's being very -- he is not rushing into running for the presidency. I have no clue where his head is now."
© Copyright IBTimes 2023. All rights reserved.