Georgia Protests: Thousands Turn out In Tbilisi Demanding Government Step Down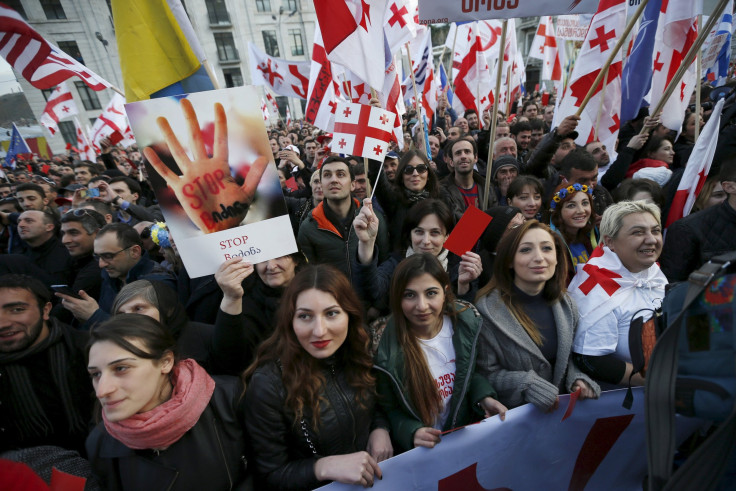 Thousands of supporters of former Georgian President Mikheil Saakashvili marched through central Tbilisi on Saturday demanding President Giorgi Margvelashvili and his government step down for failing to properly address an economic crisis devastating Georgians. Protesters were seen holding Ukrainian, European Union and NATO flags to show their support for a pro-European government in Ukraine.
Much like many Ukrainians, the protesters in Georgia want to get closer to Europe economically and militarily and break away from the influence of Russia. Saakashvili was a strong pro-Europe voice during his two terms as president from 2003 to 2008, but allegations of electoral fraud and political intimidation hurt his image with some Georgians.
Saakashvili's United National Movement (UNM) organized Saturday's rally, where party leaders spoke out against the Margvelashvili government.
"We need to put an end, with peaceful and constitutional means, to the government which has put Georgia in the deep crisis, which is blatantly telling us they have no plan. ... while people are losing jobs, and poverty is growing, and there is zero vision of how to stop this fall," UNM leader Giga Bokeria said, according to Ukraine Today.
Margvelashvili's government is struggling to handle an economic crisis brought on by regional instability, a 30 percent fall in the value of the lari over the last year and heavy debt. The government launched a set of reforms, including debt restructuring efforts and budget cuts, in late February in an attempt to save the economy.
Margvelashvili and his Georgian Dream coalition unseated Saakashvili's UNM in the 2012 parliamentary elections. Saakashvili was barred from seeking a third term, but had recommended a successor. Some protesters said the government has used the courts to persecute members of Saakashvili's former government, but the government contends it is acting against the corruption seen during Saakashvili's rule, according to Reuters.
Much like in Ukraine, Georgia's government has been anything but stable since the fall of the Soviet Union in 1991. Anti-government protests are common and on occasion have broken out into violence. Georgia is also struggling with the wills of separatist states in the north of the country, a situation that devolved into a brief but unsuccessful war in 2008 with Russia, which supports the breakaway regions.
Saakashvili is a strong supporter of the Ukrainian government. As of February he is head of the International Advisory Council on Reforms, which the Ukrainian government formed as it tries to build a more competent state amid a brutal war with pro-Russian separatists. The conflict developed following the 2014 Euromaidan revolution that ousted pro-Russian President Viktor Yanukovych.
© Copyright IBTimes 2023. All rights reserved.