Germany AfD Meeting: 400 Protesters Detained While Blocking Entry To Far-Right Conference In Stuttgart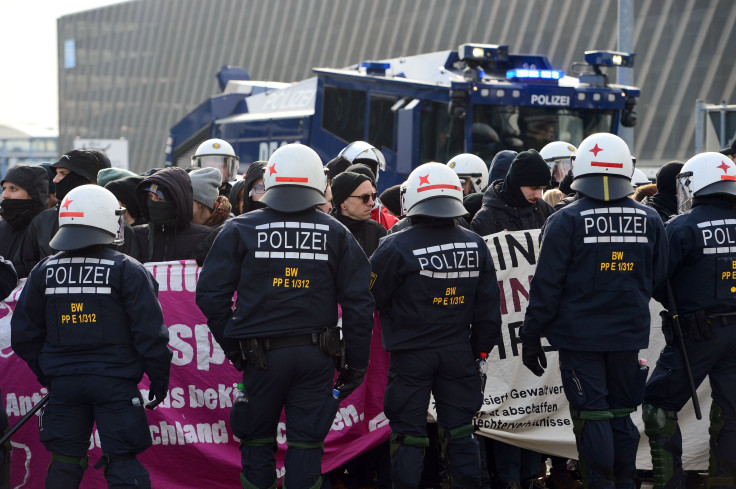 German police arrested 400 protesters Saturday for trying to block people entering a far-right party conference in the city of Stuttgart in southwest Germany. Several protesters demonstrated against the national convention of the populist Alternative für Deutschland (AfD) party.
Police reportedly fired pepper spray at crowds who had temporarily blocked a nearby highway and burned tires on another road leading to the convention center. The meeting, where AfD was expected to rebrand itself as openly anti-Islamic, began as planned despite the protests. About 1,000 police officers were deployed to prevent violent clashes between the far-right party members and protesting demonstrators.
Protesters were shouting slogans like "refugees can stay, Nazis must go," German news agency Deutsche Presse-Agentur reported.
AfD recently protested against mostly-Muslim migrants and refugees, more than a million of whom entered Germany after fleeing war-torn regions last year, and also slammed German Chancellor Angela Merkel's "catastrophic" decision to accept a million migrants and refugees in 2015.
AfD deputy leader and European parliament member Beatrix von Storch last week reportedly sparked outrage after calling Islam a "political ideology that is incompatible with the German constitution."
von Storch reportedly said the party meeting would call for a ban on Islamic symbols and the burqa, and for outlawing minarets of mosques in Germany.
© Copyright IBTimes 2022. All rights reserved.
FOLLOW MORE IBT NEWS ON THE BELOW CHANNELS