Germany Readies Reluctant Approval Of Greek Extension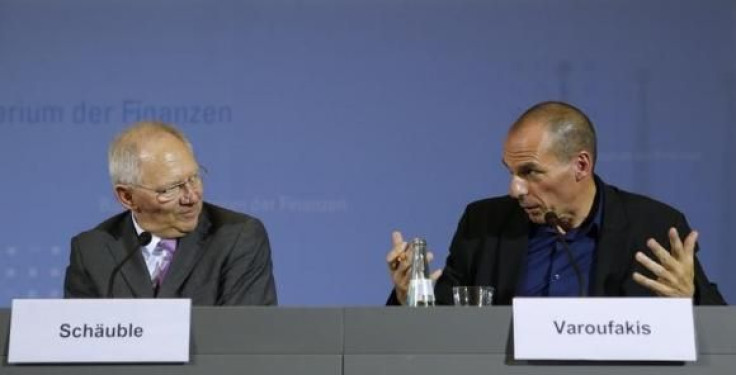 (Reuters) - Chancellor Angela Merkel and Finance Minister Wolfgang Schaeuble are rallying reluctant German lawmakers to approve an extension of Greece's bailout despite Schaeuble's avowed doubts about the credibility of Athens' latest reform plans.
Merkel's right-left coalition has a big enough majority to easily win a vote, expected on Friday, on extending the 240 billion euro international rescue for four months. It is set to prevail, despite vocal pockets of resistance on the right and left.
But Schaeuble made no attempt to hide his own misgivings.
Reveling in the role of grumpy euro zone paymaster, he said it had been hard to accept Athens' new reform pledges and took a fresh swipe at leftist Greek Prime Minister Alexis Tsipras for his campaign promises to scrap the reforms prescribed by Berlin.
"It wasn't an easy decision for us but neither was it easy for the Greek government because (they) had told the people something completely different in the campaign and afterwards," the veteran minister told SWR2 radio on Wednesday.
"The question now is whether one can believe the Greek government's assurances or not. There's a lot of doubt in Germany, that has to be understood," said Schaeuble.
Nevertheless he has asked the Bundestag lower house to vote by Friday, when the bailout was due to expire, and he joined Merkel on Tuesday and Wednesday to lobby coalition lawmakers.
With a small group of hardliners from Merkel's conservative bloc agitating against approval and an INSA poll showing only 21 percent of Germans back an extension for Greece, Schaueble made clear Greece was not getting softer conditions, only more time.
"Only when we see they have fulfilled this will any money be paid. Not a single euro will be paid out before that," he said.
The Eurosceptic fringes of Merkel's Christian Democrats (CDU) and their Bavarian sister party, the CSU, portrayed the move as leniency for Greece.
Many newpapers agreed. Top-selling Bild spoke of Greek "trickery" and broadsheet Die Welt said: "What's the bet the Greeks will be back in four months?"
Kurt Lauk, head of the CDU's right-wing "business council", wrote to lawmakers urging them not to back the deal.
"A simple extension of the aid programme without effective terms would mean that we are knowingly throwing further good money after bad," the letter cited by the Frankfurter Allgemeine Zeitung said.
But conservative Eurosceptics and their unlikely allies in the hardline Left party lack the numbers to upset Merkel's coalition with the Social Democrats. Government supporters hold 504 of the 631 seats in the lower house, and the Europhile opposition Greens also support the bailout.
Sovereign debt strategist Nicholas Spiro said Merkel's coalition "will hold its nose and approve Greece's bailout extension" because it was unwilling to force Athens out of the euro, even though Germany's patience is wearing thin.
© Copyright IBTimes 2023. All rights reserved.