Germany 'Satisfied' With Russia's Efforts In Donetsk While Ukraine's Authorities Free 67 Detainees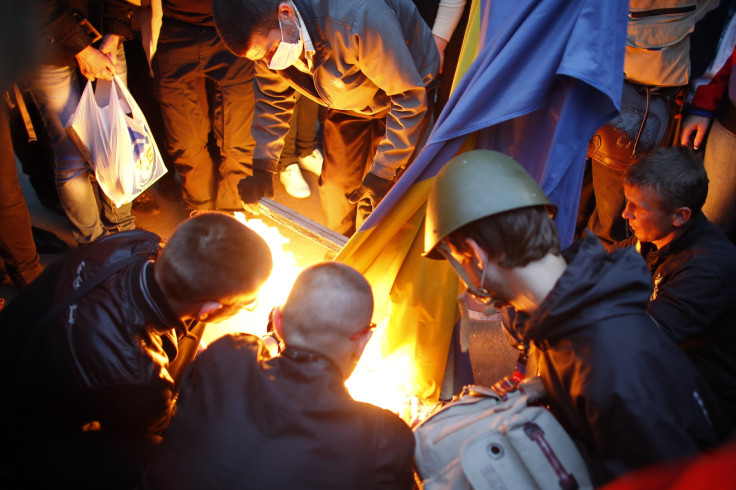 German Chancellor Angela Merkel says she's "satisfied" with Russian President Vladimir Putin's efforts to free the military observers who were detained in Donetsk, as Ukraine released 67 protesters who had been detained for engaging in violence, heeding demands from pro-Russian protesters who stormed a police headquarters in Odessa.
"Based on the decision taken by Odessa's regional prosecutor's office, and due to the demands of the protesters, 67 people previously detained for participating in mass disturbances on May 2 in Odessa were released Sunday," Ukraine's Interior Ministry said in a statement.
The decision to release the detainees was reportedly made by the police after some officers allegedly did not fulfill their duties, and the prosecutor's office has begun a criminal investigation against them, CNN reported, citing the Interior Ministry's statement.
"The German Chancellor expressed satisfaction with Russia's efforts to help free military observers from a number of European countries, including Germany, that have been detained in Donetsk Region," the Kremlin said in a statement on Sunday. It added that Didier Burkhalter, chairperson of the Organization for Security and Cooperation in Europe, or OSCE, will visit Moscow on May 7 to discuss steps to reduce tension in Ukraine.
Arseniy Yatsenyuk, Ukraine's prime minister, visited the Black Sea port city on Sunday, after a street riot on the streets between pro-Russian and pro-Ukrainian supporters ended with a deadly blaze, killing more than 40 people.
"The process of dialogue had begun, only it was drowned out by the shots from Russian-made Kalashnikovs," Yatsenyuk said, according to CNN. He said the people behind the unrest were "trying to split our people by history, culture, language, ideology, territory ... We can only win through a dialogue and unity."
Russia had reportedly said that it would try to hold talks between Kiev and pro-Moscow supporters in the south-eastern part of Ukraine, dismissing allegations from Ukraine that it was orchestrating the bloodshed.
"It appears that without external help, the Kiev authorities are not capable of establishing such a dialogue," Grigory Karasin, Russia's deputy foreign minister, said on a local news channel, according to Reuters.
The separatists in the region of Donetsk, or the "People's Republic of Donetsk," are reportedly planning a referendum on splitting from Ukraine on May 11, two weeks before Ukraine holds presidential elections on May 25.
© Copyright IBTimes 2023. All rights reserved.
FOLLOW MORE IBT NEWS ON THE BELOW CHANNELS