Germany Unemployment Rate At Record Low, Euro-Area Jobless Rate At 5-Year Low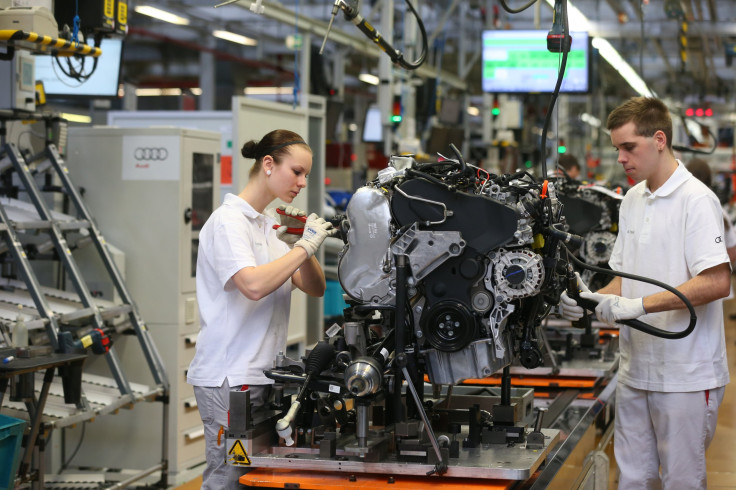 A larger number of women in the workforce has led to Germany's lowest rate of unemployment since the fall of the Berlin Wall. Data released Tuesday by the country's Federal Employment Agency showed seasonally adjusted jobless figures at 6.2 percent in January, down from 6.3 percent a month earlier.
Of the population aged between 20 and 64 years, 78 percent are employed, putting Germany behind only Sweden — with 80 percent — in the European Union, Bloomberg reported. The rise of nine percentage points in the country's employment rate over the last 10 years is due in large part to women, 73 percent of who were employed in 2014, up 10 percentage points from 2005.
Employment in Germany is at its record high levels — not seen since German reunification — due to favorable economic conditions and an influx of foreign workers, the country's Federal Statistics office said last month, according to Reuters. However, the influx of immigrants would lead to a rise in the rate of unemployment, said Joerg Zeuner, chief economist at KfW, a government-owned development bank.
As growth in emerging markets slows down, demand for German exports has reduced. Economic growth in the country is largely based on domestic consumption now, which is helped by high rates of employment and muted price pressures, a result of low oil prices, among other factors.
Meanwhile, the broader eurozone saw unemployment rates in December fall to 10.4 percent, down from 10.5 percent in November, the EU's statistics office Eurostat announced Tuesday. It was the lowest level of unemployment in the 19-country bloc since September 2011.
Eurostat's data also showed that unemployment rate in the larger 28-member EU was at 9 percent in December, stable from a month ago, the lowest level recorded since June 2009.
Eurostat uses different data sets for different countries to compile its figures. According to its report, the Czech Republic and Germany had the lowest unemployment rates in December 2015, while Greece and Spain were at the other end of the table. Spain, however, saw the biggest fall in unemployment rates compared to a year ago, while Finland saw the biggest increase.
The statistics office also revised EU's unemployment rate for November, from 9.1 percent to 9.0 percent.
© Copyright IBTimes 2023. All rights reserved.