Germany's Wolfgang Schäuble Opens Up About Greek Bailout Deal, Denies Animosity With Chancellor Merkel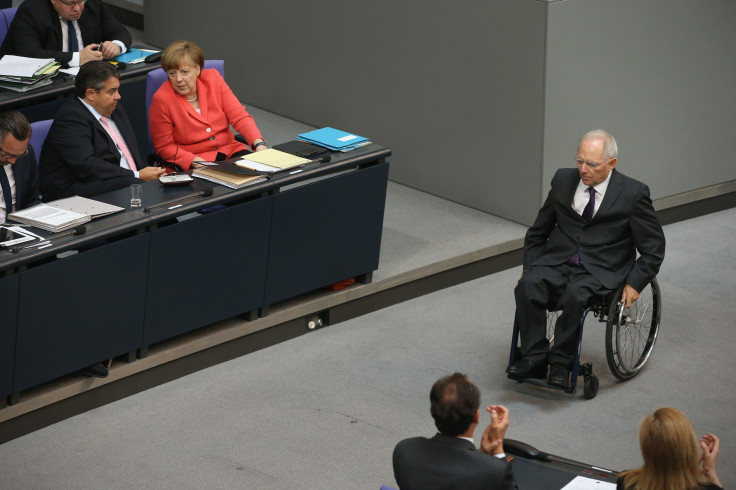 German Finance Minister Wolfgang Schäuble defended his hardline stance on Greek fiscal austerity measures but said his relationship with German Chancellor Angela Merkel is stable. Schäuble has emerged as the eurozone's strict father figure, demanding punishing economic cuts and tax increases from Greece in return for further bailout money -- a stance that's popular among many Germans.
In an interview published Friday in German weekly Der Spiegel, Schäuble downplayed the differences between him and Merkel, who has expressed more flexibility in bailout negotiations in recent weeks.
"Divergent opinions are a part of democracy," Schäuble said. "In such a case, you jointly hash out a solution. In that process, everyone has a role to play. Angela Merkel is chancellor, and I am the finance minister...Ms. Merkel and I have a constant: We know that we can rely on each other."
Greek Unemployment Rate Over Time | FindTheData
The wide ranging interview, in which the finance minister denies that Greece was being treated like a colony or having its democracy subverted, was published on the day German lawmakers approved moving forward with talks over a third bailout deal for Greece.
"The alternative to this agreement would not have been an orderly exit from the euro, one that Greece wanted and was drawn up by everybody, but predictable chaos," Merkel said, according to the New York Times. Schäuble had been saying that Greece would be better off leaving the eurozone but backed off these comments ahead of the German vote.
Athens will receive a 7.2 billion-euro ($7.8 billion) bridge loan on Monday that will help it reopen banks that have been closed since June 29 and avert an imminent default. But difficult negotiations lay ahead for Greece to secure an 86 billion-euro ($93.1 billion) long-term rescue plan.
International Monetary Fund Managing Director Christine Lagarde said Friday the bailout won't be enough and that Greece's creditors will need to lower the country's debt burden, which stood at 315.5 billion euros ($341.6 billion) at the end of the third quarter. When asked on France's Europe1 radio whether the current bailout is enough without debt restructuring that would require creditors to take a partial loss, Lagarde replied: "The answer is quite categorically not [enough]."
© Copyright IBTimes 2023. All rights reserved.