Get Bac: France's High School Exam Losing Prestige And Value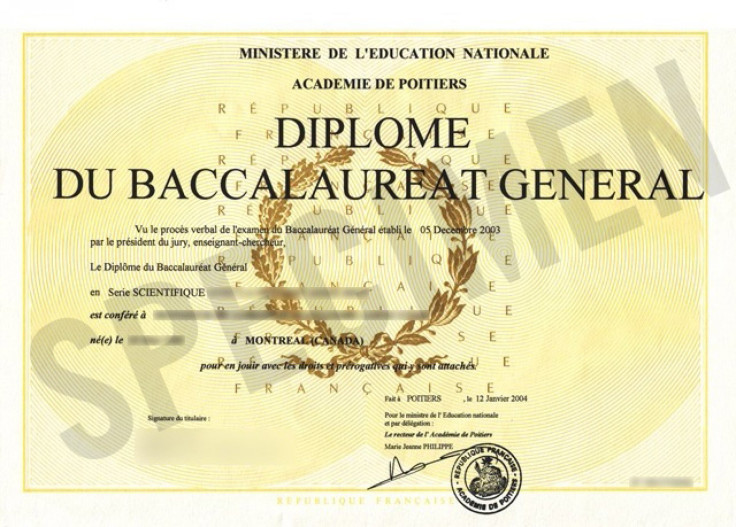 She is a 52-year-old mom, wearing a pair of blue jeans and Converse shoes, while sporting unusually heavy makeup, i.e., dressed like a typical teenager. Last Thursday, she was hoping to take a three-hour English language test (le baccalauréat) in place of her 19-year-old daughter in a classroom in Paris, according to the French newspaper Le Parisien.
And she almost got away with it.
Luckily, a keen-eyed invigilator (that is, the person who supervises such tests and monitors any cheating) who had earlier seen the 19-year-old daughter take another exam earlier in the week, recognized the fraud taking place, notified authorities, leading to the older woman's arrest by police.
"She [the mother] was held briefly in custody and freely admitted what she had done," a spokesman for the Paris police said. "She said she was better at English than her daughter."
Facing charges of fraud, the mother could receive a fine of up to about $9,150, but her daughter could face a worse punishment -- she might be prohibited for taking any such public exams for a period of five years, thereby risking her whole future.
While this latest episode of cheating is probably unprecedented and has its humorous elements, it underscores some of the problems of France's troubled education system.
Introduced in 1808 by Napoleon Bonaparte, the baccalauréat – or, known colloquially as simply "le bac" – is a test taken by all students in their final year in high school in order to advance from secondary school to university. It usually occurs during the third week of June for students on mainland France.
Last Monday, almost 665,000 students – double the figure from 30 years ago – took the test, which takes several days and covers a range of subjects, including such esoterica as philosophy.
However, as important as le bac is, (something many people call "the most important exam in France") in recent years, it has lost much of its prestige due to a number of cheating scandals (by both students and administrators) and complaints that it has become "too easy" to pass, thereby diluting its value. Indeed, around 90 percent of the candidates will pass what is considered a rigorous and demanding test and graduate with their diploma.
Is the baccalauréat too easy? This question has often surfaced as the success rate has slowly risen over the years.
Julien Prévost is a 19-year-old student, who took the bac last week. In his final year of high school at Lycée Jean XXIII in Normandy, he found out that the exam was not as easy as everybody was telling him, especially since the government has enacted reforms to lower dropout rates.
"With the new reforms, everybody thought that the baccalauréat would be easy this year, but that wasn't the case at all," said Prévost. "History-geography and philosophy were particularly difficult, and I had to comment on a very complicated text by [philosopher and theologian Saint] Anselm written during the 12th century."
However, Pierre Delrieu, who took le bac in 2006, has a starkly different viewpoint.
"The exam wasn't difficult and most high school students pass [it], but there's a lot of pressure on getting the best grades possible and the best honors possible," he said. "The baccalauréat has been criticized for being too easy to pass, especially in the past decade or so, and doesn't really represent a true 'standard of knowledge' anymore. And the result of this is that some students end up going to college without the necessary skills, tools or knowledge."
Even worse, grading of le bac has become more favorable to students – what Americans call "grading along the curve."
Alain Diger, a senior French education official, defended the new grading scheme in an interview with French radio station Europe 1.
"The goal is not to give a grade that would be later transformed," he said. "We just don't want skills to be more prominent or less prominent than others. The goal is to know what the students know rather than what they do not know."
As a result, Delrieu commented that le bac is not a cherished institution anymore because it "seems more like a rite of passage than a prestigious achievement."
Another French student, Amital Isaac, who has been living in New York and went to the Lycée Francais there, defends le bac.
"I think that to those who know what the baccalauréat entails, it is very prestigious," she said. "Especially here in the U.S., where I decided to go to college and graduate school and pursue a career. When people hear you passed all these exams in other languages, it's very impressive and signifies a lot."
© Copyright IBTimes 2023. All rights reserved.