Giannis Antetokounmpo Scolds Joel Embiid For 'Unstoppable' Claim, Outshines 76ers Center
Giannis Antetokounmpo is the favorite in the race for the 2018-19 regular season MVP Award after leading his Milwaukee Bucks team to the best record in the NBA. The "Greek Freak", as he is fondly known, is also a player who is understated and not known to speak out or be over the top in his actions.
But the Bucks forward had a few words of advice for Philadelphia 76ers center Joel Embiid after he claimed he was the "most unstoppable" player in the NBA. The scolding from Antetokounmpo came ahead of the game between the Bucks and 76ers on Thursday night, which the former won 128-122.
Embiid is having an impressive campaign averaging 27.5 points and 13.5 rebounds and has been key in the Philadelphia franchise's 49-30 record to help them to third place in the Eastern Conference. But Antetokounmpo is leading from the front when it comes to players being unstoppable as his numbers when it comes to scoring at the rim are unseen since the days of Shaquille O'Neal.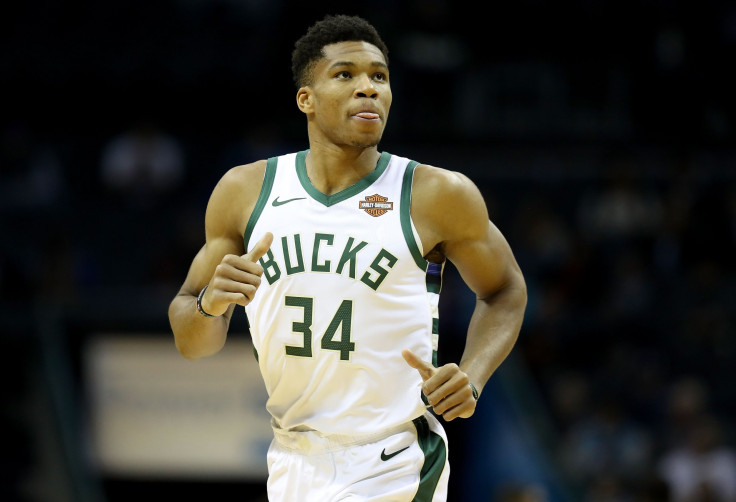 Matt Velazquez of The Sentinel asked the Greek Freak about Embiid's comments ahead of the two players coming face-to-face at the Wells Fargo Center in Philadelphia. While he admitted that the 76ers center is a hard player to guard, Antetokounmpo is of the opinion that praise should come from others rather than be self-proclaimed.
"If he believes he's the most unstoppable player in the NBA that's good for him," Antetokounmpo said. "Obviously, he's a really, really good player. … He's a hard player to guard. I think, like, other people should say that about you; you don't say that about yourself."
Antetokounmpo and Embiid were top scorers for their respective teams on Thursday night with the latter notching up a triple-double with 34 points, 13 rebounds and 13 assists. But he was pipped in terms of being unstoppable as the Greek star scored 45 points and recorded 13 rebounds and 6 assists.
The Bucks' form that has seen them lose just 20 games all season is keeping them on course to secure home court advantage for the entire playoffs which will be a major boost. At the moment they are likely to face Orlando Magic in the first round, but that could change quickly as teams from sixth to ninth place in the east are covered by just one game.
© Copyright IBTimes 2023. All rights reserved.