#GivingTuesday 2014: Nonprofits, Schools Ask For Donations In Charities' Response To Black Friday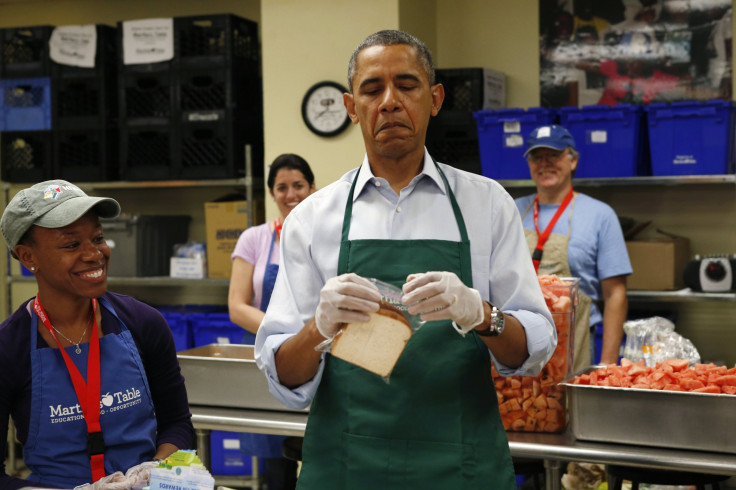 Deep, Black Friday discounts on big-screen TVs might be great, but this is, after all, the season of giving, and that's what Giving Tuesday is all about. Nonprofits, schools and libraries are busy on social media encouraging their philanthropic followers to participate in the third annual Giving Tuesday event, the charitable response to Black Friday in which people volunteer or donate to good causes. Although Tuesday marks only the third annual event, it was growing as #GivingTuesday trended on Twitter in the United States and the United Kingdom Tuesday. Online giving has increased by 90 percent every year, and 2014 was shaping up to have the biggest Giving Tuesday so far.
New York community center 92nd Street Y, which started the holiday in 2012, joined organizations like Crowdrise and United Nations Foundation this year for the #GivingTower campaign. The #GivingTower is a virtual building being constructed brick by brick -- each donation to a featured charity represents one brick. As of Tuesday morning, it had raised more than $583,000.
"We wanted to do something fun ... and also really try to figure out a way to take this movement, which lives all over the Internet, and find a place where everyone can sort of rally together," Crowdrise co-founder Robert Wolfe told USA Today.
The $583,000 figure is only part of the total. That's just what was raised by the 20,000 nonprofits with official partnerships with Giving Tuesday, but other programs around the world were also inspired to ask supporters for donations on their own websites, adding to the overall sum but hard for the event organizers to tally accurately. Plus, gifts don't have to be financial, 92nd Street Y founder Henry Timms told Forbes. "#GivingTuesday isn't just about giving money — it can also include donations of coats and food, time and talent, or anything else people want to share with organizations that move them," he said.
Even U.S. President Barack Obama issued a statement on the charitable holiday. He said the grassroots beginnings of Giving Tuesday show how people can make a difference when they work together. "The response to #GivingTuesday demonstrates the enormous potential we have to leave an enduring mark not only in our communities, but also around the world," Obama said.
Corporations like Olay and celebrities like Hillary Duff mentioned #GivingTuesday campaigns on their Twitter accounts, adding to the buzz and offering incentives for donating. See examples below:
© Copyright IBTimes 2023. All rights reserved.