Glenn Broadnax, Unarmed New York Man, Charged With Assault After NYPD Shoots Two Innocent Bystanders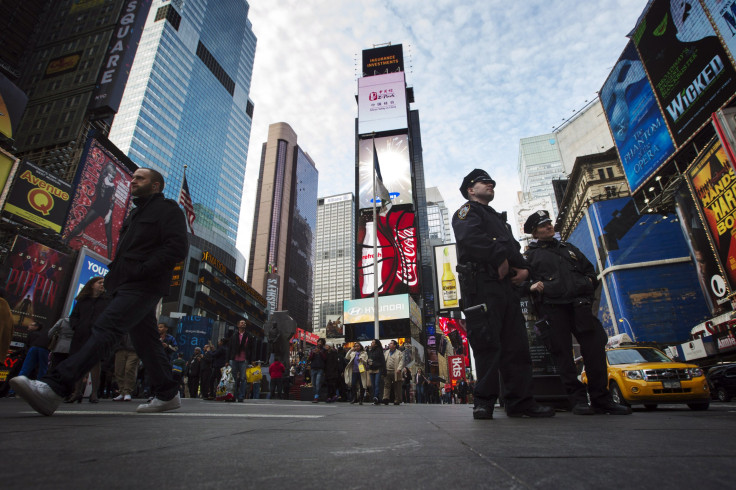 An unarmed, mentally unwell New York man has been charged with assault in an incident where police officers shot two innocent bystanders near Times Square. Police argue that the Brooklyn resident instigated the incident, so he is at fault for the injuries.
Glenn Broadnax, 35, walked into traffic at the intersection of 42nd Street and Eighth Avenue on Sept. 14 and jumped into the path of approaching cars, the New York Times reports. As a crowd gathered around Broadnax, police officers made an attempt to detain him, but due to his 250-pound size, they could not.
Broadnax then reached into his coat pocket, and nearby NYPD officers assumed he was reaching for a gun. The two officers then opened fire but missed Broadnax and hit two women standing near the scene. Broadnax was then incapacitated by a police sergeant with a Taser. It was later found that Broadnax did not have a gun on his person and was only reaching for his wallet.
After the incident, Broadnax was arrested on the misdemeanor charges of menacing, drug possession and resisting arrest. The Manhattan district attorney, however, argued to a grand jury that Broadnax was legally responsible for the shots fired by NYPD officers that hit the two women.
The grand jury agreed and formally charged Broadnax with nine counts of felony assault, claiming in a court document released Wednesday that Broadnax "recklessly engaged in conduct that created a grave risk of death."
Assistant District Attorney Shannon Lucey explained further that because Broadnax had made a scene originally, he is responsible for the NYPD officers shooting bystanders.
"The defendant is the one who created the situation that injured innocent bystanders," Lucey told the New York Times.
Broadnax's lawyer, Rigodis Appling, disagreed, claiming that Broadnax was emotionally disturbed at the time but posed no danger to other people. Appling said Broadnax suffers from anxiety and depression, and possibly delusions.
Court documents back this up, as Broadnax reportedly told a detective at Bellevue Hospital Center that "he was talking to dead relatives in his head and that he tried throwing himself in front of cars to kill himself."
Marianne Wang, representing wounded bystander Sahar Khoshakhlagh, agrees that Broadnax is not at fault and argues that the police officers should be the ones on trial.
"It's an incredibly unfortunate use of prosecutorial discretion to be prosecuting a man who didn't even injure my client," she said. "It's the police who injured my client."
Despite Broadnax's history of mental disorders, a court-ordered psychiatrist evaluation found him mentally fit to stand trial. His bail has been set at $100,000 bond or $50,000 cash.
Meanwhile, the two unidentified officers have been placed on administrative leave while they are investigated by the district attorney's office. They will also undergo an internal affairs investigation.
© Copyright IBTimes 2023. All rights reserved.