GM April Car Sales Fall, Fewer Selling Days Blamed
Ford sales fall 5 percent, while Chrysler sales jump 20 percent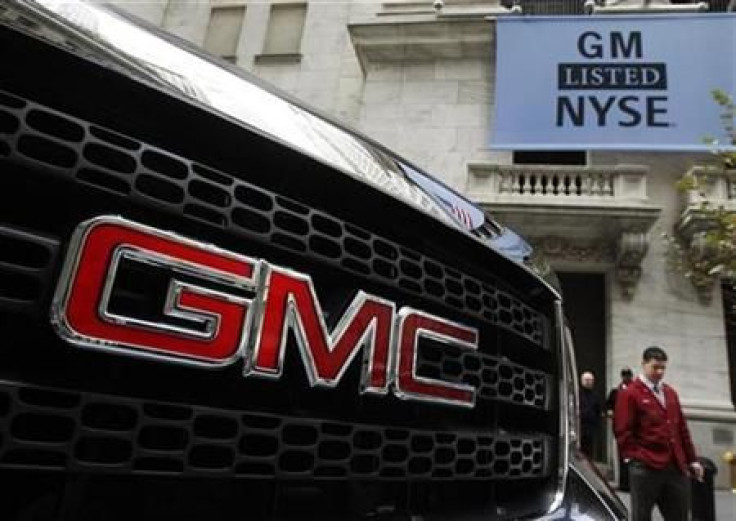 General Motors Company (NYSE: GM), the world's largest car company, reported an 8.2 percent drop in April sales on declining fleet sales and fewer selling days compared to the year before.
Ford Motor Company (NYSE: F), the nation's No. 2 car maker, also had sales decline in April, while privately held Chrysler Group LLC posted big gains.
Detroit-based General Motors Company sold 213,387 vehicles in the U.S. during April, and the company's sales actually rose 3 percent on a selling-day adjusted basis, the company reported Tuesday. There were three fewer selling days in April 2012 than during the same month last year.
Retail sales for the world's largest car company were on par with April 2011, dropping only a modest 0.2 percent to 156,280. Fleet sales for GM took a big hit, though, dropping 25 percent in April.
GM cautioned that the drop in fleet sales was merely the result of the timing of rental customer deliveries, however.
The Cadillac brand was GM's biggest loser, with sales dropping 25 percent. Buick likewise lost in a big way as sales fell 16.1 percent. Chevrolet sales dropped 8.4 percent. Sales of GMC brand vehicles rose 4.4 percent. On a selling-day adjusted basis, Buick, Chevy and GMC all saw sales gains, while Cadillac remained roughly equal with the previous year.
The Chevrolet Sonic gained the most ground in April as its sales rose 38 percent. The company said national sales of its Plug-in Electric Hybrid Chevrolet Volt were strong nationally, but hampered by limited availability in California as GM prepares to release a new model that will qualify for high-occupancy vehicle lane access.
GM revised its estimation of the total U.S. seasonally adjusted annual rate of car sales up to 14 million to 14.5 million units from 13.5 million to 14 million, bringing it largely in line with the consensus of analysts surveyed by Thompson Reuters.
The other U.S. carmakers turned in mixed results.
Dearborn, Mich.-based Ford said sales fell 5 percent last month. Sales rose for its Explorer, F-series trucks, Fusion and Edge vehicles. When adjusted for the three fewer selling days last month, Ford sales rose 7 percent, according to Reuters. Total vehicle sales for the company fell 5 percent to 180,350 vehicles in April, as compared to the year before. Ford brand sales fell 4.7 percent to 174,042 cars, while Lincoln brand sales continued to falter, dropping 12.8 percent to 6,308 vehicles. Ford Truck and SUV sales experienced only a modest drop of around 1 percent, but car sales fell 11.2 percent.
Auburn Hills, Mich.-based Chrysler said sales in April jumped 20 percent, the strongest result in four years. The company, which is majority owned by Italy's Fiat SpA, said it sold 141,165 vehicles last month, up from 117,225 from the prior year. Truck sales rose 13 percent and car sales climbed 37 percent. Chrysler brand vehicles jumped 56 percent, and its Dodge imprint ticked up 2 percent, while its Jeep sales rose 19 percent.
In afternoon trading, Ford Motor Company (NYSE: F) shares fell four cents to $11.24, and General Motors Company (NYSE: GM) shares rose 39 cents to $23.39.
© Copyright IBTimes 2023. All rights reserved.
FOLLOW MORE IBT NEWS ON THE BELOW CHANNELS