Gold Always Glitters In India: Will Curbing Imports Save The Economy?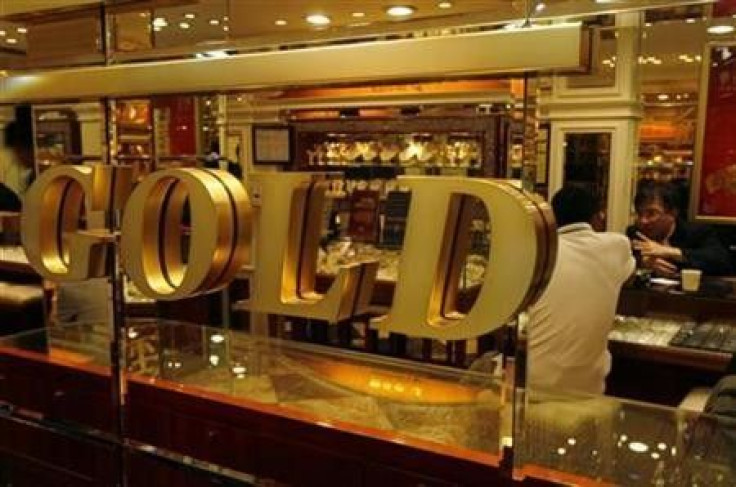 An inch of time is an inch of gold, but you can't buy that inch of time with an inch of gold. Does this Chinese proverb ring true in the case of Indians who invest in gold for a 'good time' tomorrow? Or is the craze for the yellow metal ruining the country's economy?
Time and again, the government, economists and experts have ridiculed Indians' obsession with gold and pointed out the need to curtail imports of the yellow metal to improve trade deficit.
Indians are irresistibly attracted to gold - either to be bought as ornaments or investments. Their fascination with gold jewelry has roots in the culture, tradition and also the economic realities at the rural and grassroot levels of the society. As an investment, gold has been an easier bet to hedge against inflation and other risks. Indians have been buying and trading in gold since time immemorial, and continue to buy even now, at a time when it is more expensive than ever.
The government and experts believe that high gold imports are fatal to the economy. If India were to reduce gold imports, it could solve the country's economic problems, erase the current account deficit, appreciate the rupee and boost growth. Experts say the country's balance of payment (BOP) is negative because of the gold imports.
Quantum of import of gold ... is a clear indication (that) large section of community...want (to) investment in dead asset only with expectation that value would appreciate, said Finance Minister Pranab Mukherjee at a function in Mumbai last week. He said that there is a need to spread financial literacy to encourage people to invest in market instruments and dissuade them from investing in gold.
The government believes the common man can easily save the country's faltering economy by sacrificing his passion for gold.
However, those Indians who have spent their fortunes on gold and a section of analysts beg to differ. They say although gold imports affect the country's BOP position in the short-term, India's gold reserves will benefit the people and the country in the longer run. They feel there is no basis in the saying that gold is an idle asset. From investors' point of view, gold is not an idle asset. When it is appreciating, it is not a dead asset for the holder, says Jayesh Nathwani of FXWire.
To understand both the standpoints, one needs to understand what gold means for Indians and the cultural and economic reasoning associated with it.
Quick Facts About India's Gold and Economy
India is the world's largest importer of gold. India accounts for nearly one-third of the total world demand for gold. India's gold imports were higher than those of twelve of its states' GSDP in the year 2010-11.
Gold's share in total import bill of the country has gone up from 8.1 percent in 2001-02 to 9.6 percent in 2010-11. The average rate of growth of gold imports in the last three years was 26.8 percent. At this rate, the gold import bill will be approximately by 2015-16.
According to a World Gold Council report, India has savings rate of approximately 30 percent, with 10 percent of this being in gold. It says that gold reserves in India, both with private and government, were around 20,000 tons at the end of 2011 and it is worth roughly Rs 54 lakh crore, which is 60 percent of the nominal GDP of India in 2011-12.
Gold import value for the year 2010-11 was higher than the budget-estimated expenditure on Urban Development, Housing, and Family Welfare for the year 2010-11.
According to the Gold Council report, gold jewelry accounted for about 75 percent of the total Indian gold demand in 2009, the remainder being investment (23 percent) and decorative and industrial use (2 percent).
Requirement for gold in India depends upon the seasonal demands in the country, such as weddings and festivals, and not on the highs and lows in the international prices. So people tend to buy gold at whatever the price may be in these seasons.
India's Golden Tradition
Gold is part and parcel of India's culture and tradition. As money, jewelry, status symbol and investment, gold has played a crucial role in the lives of Indians for centuries. A family's wealth was determined on the quantity of gold and land they had. Gold is considered Lakshmi (the Hindu goddess of wealth) and a symbol of prosperity.
Traditionally and, as a religious practice, an Indian woman wears ornaments throughout her life. Gold is her metal of choice for jewelry. Usually, from childhood till the end of her life, the Indian woman will adorn herself with various gold ornaments, depending on her wealth and status. The trend in recent times is more toward platinum and white gold among the urban elite, but for the middle- and lower-class families, jewelry means only gold.
Nothing can replace the status and importance of gold in the Indian society. In south India, the first food a newborn consumes will contain gold. According to tradition, the elder family member makes a paste of a local herb and a miniscule quantity of gold and feed the baby its first morsel. This is believed to bring wealth and prosperity to the baby in his/her life.
Gold is also part of the religious rituals at homes and temples. In several states, the yellow metal is worshipped as a symbol of Lakshmi and wealth.
No wedding is complete without gold, and gold ornaments are exchanged during wedding ceremonies, no matter which religion the bride and groom may belong to. Mangalsutra - a neck chain with a mandatory gold pendent - is presented by the groom to the bride during the Hindu wedding ceremony. Apart from this, Indian brides are bedecked in gold at their weddings. Though dowry is banned in India, it still exists in practice and gold is the most common form of dowry given to daughters at the time of their wedding.
The Akshaya Trithiya is an auspicious day in the Hindu calendar to buy gold. Devotees celebrate this day (usually in April) by buying gold. In recent years, this festival has become highly commercialized as the jewelers have started promoting the sales with discounts. Gold ornaments worth millions of rupees are purchased across the country on this day.
The Economic Importance
The importance of gold in the Indian society lies in its money, investment and risk aversion quotient. Historically, gold was the unit of currency. In India, there is no difference between the rural and urban or the rich and poor when it comes to investing in gold. Irrespective of their caste and creed, Indians consider gold as the most tangible form of investment.
Gold remains the easiest asset and investment for the rural poor because of its availability, liquidity and ease of purchase and sale. About 60 percent of India's gold demand is from rural areas. It is their best tool for risk aversion and hedge inflation and is their insurance against future losses. It is also linked to the rural economy and the agriculture and trade sector. Farmers buy gold after the harvest as an investment. They often sell or pawn gold during farming season to meet expenses. This insulates them from the claws of rural creditors who charge exorbitant interest rates on money borrowings.
Rural and urban middle- and lower-class income groups invest in gold for the future when it will be used to raise money for weddings in the family, renovation of houses and meet any unforeseen expenses, either by selling or pawning it.
India's demand for gold is seasonal and dependent on domestic factors, not on international factors and prices. Gold purchases go up during post-harvest, wedding and festival season and come down in the monsoon.
The Debate
Economists, concerned about India's current account deficit, argue that Indians are importing gold at a time when gold prices are too high in the international market. Since India depends on imports to meet more than 80 percent of its gold requirement and gold as a commodity on its own, it doesn't add much to the economic productivity. We have to pay in dollars to buy gold. A huge part of our forex resources which could have been used to import productive goods are wasted on it, says Mangalore-based economist Jayadeva Prasad Moleyar.
Most gold is in the form of ornaments with the private people in households or are piled in bank lockers for most of the time. Gold doesn't have economic value; it only has emotional value. And considering the heavy pressure its puts on imports, it is an investment better avoided, Moleyar added.
Experts also warn that it is unscientific to buy gold at current rates as the prices are high but show symptoms of declining. Moreover, they say that money squandered in gold should be used for productive purposes within the country, considering the extent of poverty and lack of social infrastructure in India.
On the other hand, some analysts and the common people in the country don't agree to this and argue that the very theory claiming gold as an idle investment is flawed. There was a time when gold was used mainly for jewelry purpose. But now all over the world, the trend has changed and gold is an investment option. All over the globe, asset managers and funds are holding gold as an investment tool. Even in India, people depend on gold to hedge inflation, says Nathwani.
Unlike international investors and lenders who invest in markets and trade, most Indians investing in gold aim at long-term benefits so as to hedge the short-term price volatility in the prices of gold. They also opine that the government and financial experts fighting for reduction in gold imports ignore the fact that in the present situation gold is the best, risk-free investment tool that can cope with spiraling inflation.
If the government is looking at reducing investment in gold, then it should provide its citizens with an alternative. As of now, there seems to be none. For the rural Indians, who are the highest consumers of gold, bank deposits and the realty sector are the only easily accessible investment options. But bank deposits are unattractive as the inflation rate is higher than the interest rates while realty prices have skyrocketed even in the rural areas, making investment difficult for those in the middle and lower income groups.
Many Indians blame bad governance for the trade deficit in the country and believe that instead of attempting to change the centuries-old obsession with gold, the government should try to reduce inflation and economic indicators to save the economy. It is the government's duty to save the economy, then why is it asking the people to do so? Why can't they take steps to improve exports to solve the trade deficit rather than curtailing imports? asks Jayashree Chakkere, a lecturer in a college in Bangalore.
Considering that India's cultural affinity toward gold, in all its forms, has roots in its ancient history, it is unreasonable, not to mention highly impossible, to convince Indians to refrain from the very tradition of buying gold.
We need to have gold jewelry for both the bride and the groom at the time of a wedding. How can I marry off my daughter without giving her any gold? I have to buy gold for her even if it means borrowing money. Though it is going to be difficult for me now, I am sure it will help her if she ever faces bad times, says K Narayan, a farmer from the south Indian state of Kerala.
Difficulties in Reducing the Gold Imports
Even while arguing about cautioning people against buying gold, economists are aware of the difficulty in doing so. In the past, the government had tried to regulate gold prices by controlling its supply, sealing the purchase limits and increasing tariffs. Till the mid-sixties, the government had tight control over gold transactions as it barred the manufacturing of gold ornaments with more than 14 carats of purity. Even in the last budget, the government hiked taxes on gold.
However, experts feel that hiking duties on the yellow metal will only lead to an increase in the prices of gold in the domestic market. Due to social factors, people cannot avoid buying gold and a rise in the prices will only benefit those involved in smuggling gold, black market trade and 'hawala' transactions, as was the case in Vietnam some years ago when its government imposed a ban on gold imports.
India has to live with gold imports. Gold imports cannot be banned as it is a citizen's fundamental right to buy gold. Further, any such measure will increase anti-social activities like smuggling. The government can only request citizens not to buy. But no one will listen to the government. Though gold import hurts the economy, it is not the only thing that is blocking the growth or depreciating the rupee. The government should look into policy issues and improve exports. Even global issues like the euro zone problems affect the economy. Reducing gold imports to correct the BOP problem is a temporary solution, says Moleyar.
The government is resorting to a short-term approach. It has increased the tax from 1 percent to 4 percent and has been successful in reducing the imports roughly by 30-35 percent. This has affected business badly. The notion that gold is non-productive is wrong. When millions of people use it as a security and investment, it cannot be non-productive. Moreover, the very government that has asked its people not to buy gold, purchased around 200 tons of gold recently, says S Venkatesh Babu, a wholesale bullion importer and president of the Jewelers Association of Karnataka.
Babu says the need of the hour is for the government to improve its policies and governance rather than passing the buck on to the common man. The government should bring in the right reforms and economic policy to solve the economic crisis rather than controlling the bullion imports, he adds.
The government's attempts at dissuading its people from investing in the yellow metal may not work out, as apparently Indians truly believe that an inch of gold can buy an inch of 'good time' in the future.
© Copyright IBTimes 2023. All rights reserved.
FOLLOW MORE IBT NEWS ON THE BELOW CHANNELS