Gold Prices Are Falling, But Demand For Gold Is Growing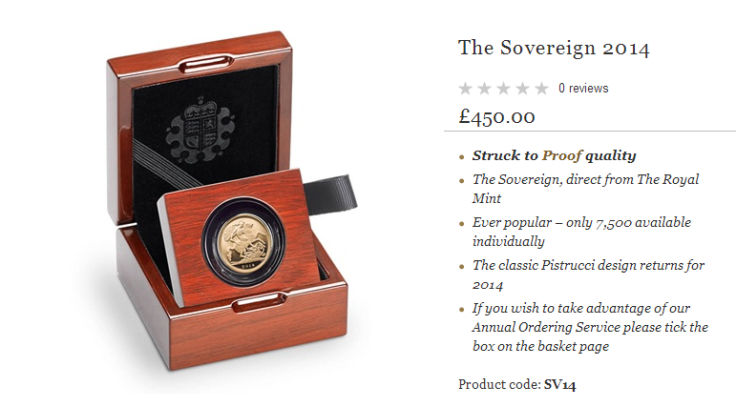 Gold prices are falling, and yet investors and collectors can't seem to buy enough of the precious metal.
Gold prices fell to a six-month low heading into 2014 (standing at $1,228.60 per ounce Wednesday morning). On Wednesday, just two days after the debut of a British gold bullion coin, the Royal Mint announced that the Sovereign 2014 is out of stock, but it expects to stock the coin again by the end of the month.
"Since the dip in the price of gold, we have seen increased demand for our gold bullion coins from the major coin markets, and this presently shows no sign of abating," the mint said in an email. "The Royal Mint continues to supply to its customers and is increasing production to accommodate the higher demand."
According to the coin's online product description, the mint initially intended to sell 7,500 individual coins.
In 2013, gold futures prices fell 28 percent, their worst outlook in more than 30 years. And yet, demand for gold coins grew 63 percent in the first three quarters of 2013, according to the World Gold Council.
"There's been massive amounts of bullion sales," said Anthem Hayek Blanchard, CEO of Las Vegas-based precious metals dealer and vaulting company Anthem Vault.
The Royal Canadian Mint sold 82.5 percent more Gold Maple Leaf coins in the first three quarters of 2013 than it did in 2012. Across the globe, Australia's mint sold 41 percent more in gold last year compared to 2012. And the U.S. Mint sold 14 percent more American Eagle gold coins last year than in 2012.
According to Blanchard, dealers like his own company are the typical customers buying bullion from mints, then individual investors buy from the dealers. Bullion coins are valued at or near the price of their metal, in contrast with numismatic coins, whose value has other factors, like their scarcity, artistry, condition and age.
Blanchard says he's both surprised and not surprised that the demand for gold is shooting up. Demand for gold from hedge funds looking for short-term investments has declined recently, "but other than commercial institutions, individuals have certainly been buying, central banks have been buying," he said. And when individuals buy, they buy for the long term, for retirement or insurance.
He believes two markets for gold are trying to reach equilibrium: markets for short-term and long-term investments.
"What looks like this paradox, this record of physical buying and the worst price drop, it looks very funny, but that's the reason, because there are different markets," he said.
© Copyright IBTimes 2022. All rights reserved.
FOLLOW MORE IBT NEWS ON THE BELOW CHANNELS