Commodities: Investment Funds (ETPs) Plunge By Record In 2013, Led By Gold: ETF Securities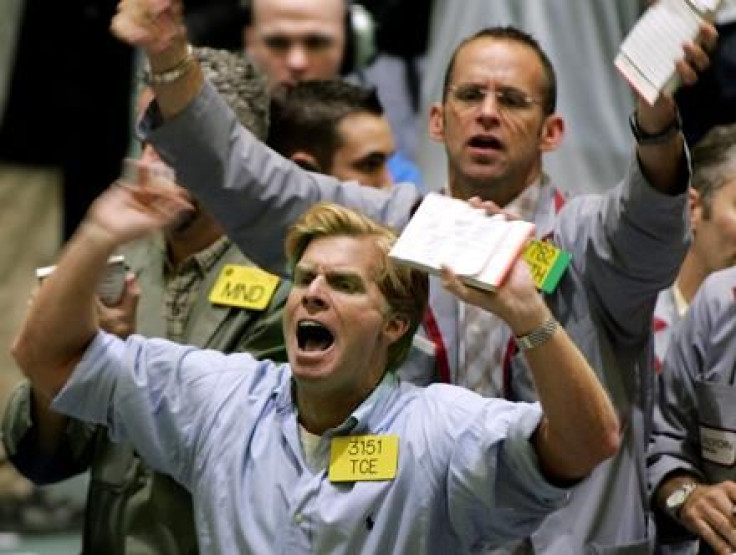 Global investment funds, which track commodities, saw their value tumble the furthest since 2003, when such exchange-traded products (ETPs) were first widely launched, according to a Tuesday report by ETF Securities.

Commodity ETPs fell by a record $78 billion in assets under management to $122 billion by the end of 2013; a steep decline in gold managed assets accounted for more than 90 percent of that decline.

"It's not so much the commodity ETPs that have gone out of favor … Gold ETPs have gone out of favor. Plus, the price has dropped a lot," ETF Securities' investment strategist Nick Brooks told IBTimes. "It's really been a sell-off of gold."

Gold prices plunged 28 percent in 2013, their worst showing since 1981. That price free fall accounted for about half of gold ETPs' lost value in assets, while actual investor exits to the tune of 874 metric tons made up the other half.

Switzerland's central bank lost about $16.5 billion in write-downs on its gold holdings, the bank revealed on Monday, even though it hardly sold any of the precious metal.

Commodities other than gold fell $7 billion to reach $46 billion in 2013, with the majority of the losses stemming from price declines, and not investor outflows. Oil investment products saw the second most outflows after gold, with $1.5 billion in outflows.

Natural gas came third, with $687 million of outflows. Gold, oil and natural gas are considered the three most influential commodities, with liquid markets backed by heavy investor interest. Other commodities include precious metals like platinum and agricultural commodities like corn and coffee.

Exchange-traded products are instruments that follow the underlying price of an asset. They provide investors with exposure to products like gold or oil but save them troublesome costs associated with physical products, like storage and transportation. ETPs also exist for equity indices, like the S&P 500, for example.

There are more than 1,500 U.S. based exchange-traded funds, according to a Wall Street Journal analysis on Monday. Investors pumped a record $188.5 billion into such funds in 2013, up slightly from the year before, despite heavy declines in the SPDR GLD fund, the world's largest gold fund.

SPRD GLD held 794 metric tons of gold on Monday, its lowest tonnage since about January 2009. That was still worth about $31.8 billion.

More gold ETP selling could materialize in 2014 if stock markets stay strong, wrote Barclays PLC (LON:BARC) analysts on Monday. If prices fall below $1,200 per ounce, another 100 tons of gold becomes held at a loss to investors, they said. Net outflows sped up in December 2013, when the Federal Reserve declared tapering, though they spiked to a record in the second quarter of 2013.

Platinum and silver ETPs saw the best inflows in 2013, with platinum receiving $1.3 billion worth of new investor interest. Surprisingly, silver prices fared worse than gold, falling 36 percent, even though investors bet more on silver.

Gold's dismal performance in 2013 is nicely summed up by this Goldman Sachs Group Inc. (NYSE:GS) chart from Friday.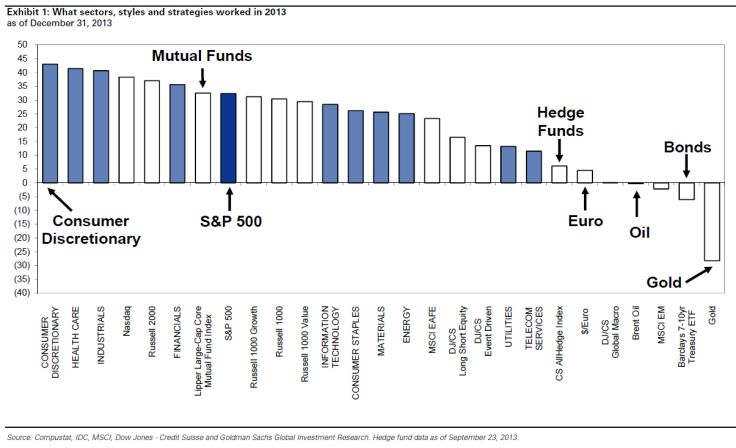 Goldman Sachs sees gold prices falling to $1,110 per ounce within 12 months, an 8 percent decline from its earlier position at $1,202 per ounce.

The Dow Jones-UBS Commodity Index, a widely watched benchmark covering energy, precious metals, base metals and agricultural products, is down 9.1 percent over the past year. That compares to a 24.7 percent jump in the S&P 500.

Coffee investment products also saw their strongest inflows ever, according to ETF Securities. Arabica coffee bean prices fell to a seven-year low in 2013, with many speculators viewing low prices as a buying opportunity for the highly demanded product. Corn fared the worst among commodities in 2013, underperforming even gold, with its biggest price decline in more than 50 years, according to Bloomberg.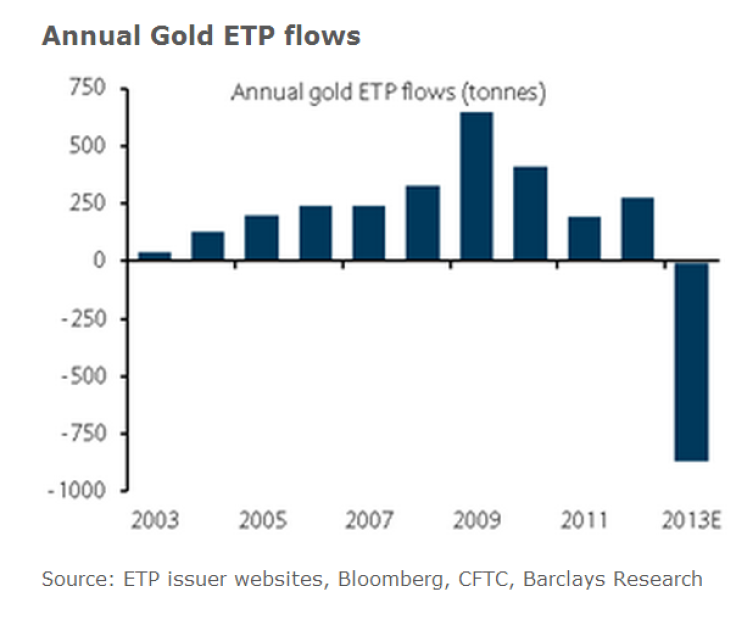 © Copyright IBTimes 2023. All rights reserved.