Gold Prices Fall On Weaker Euro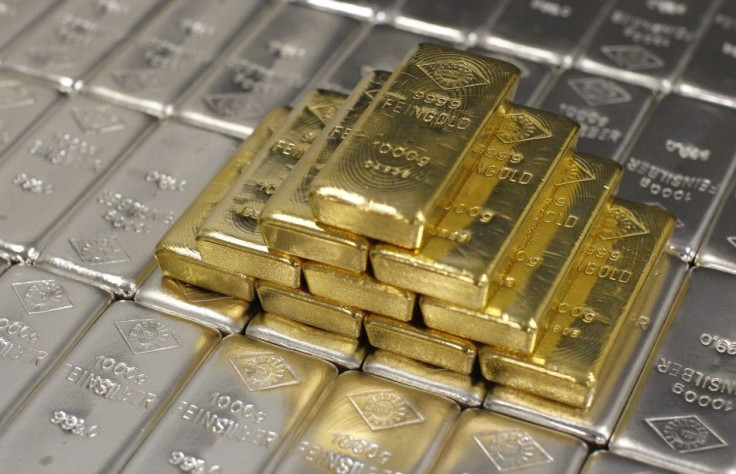 (REUTERS) -- Gold fell for a second day on Tuesday, under pressure from the slide in the euro on the back of political uncertainty in Greece and a change of president in France, while Chinese import figures did little to offset the impact of the weaker currency.
Data showing a sharp jump in exports of gold in March from Hong Kong to mainland China, soon to be the world's top bullion consumer, did little to support the price, but reinforced analyst expectations for gold to benefit in the longer term from Chinese demand.
In the shorter term, however, the decline in the euro had a greater impact on the gold price.
The correlation between the single European currency and the gold price hit its highest in four months in late April, meaning the two are more likely to move in lockstep than inversely to each other.
Spot gold was down 0.6 percent on the day at $1,628.04 an ounce by 1141 GMT. The price fell last week for a second consecutive week, losing nearly 0.9 percent.
Gold priced in euros was down around 0.4 percent on the day at 1,249.39 euros an ounce. So far this month, euro-priced gold has outperformed the dollar-equivalent, with a decline of just 0.6 percent, compared with a fall of more than 2 percent in benchmark dollar-denominated gold.
It is a much more hazardous environment (for gold) at the moment because of the downside risks to euro/dollar, Deutsche Bank analyst Michael Lewis said.
One of the supportive factors (is) we've already seen quite a dramatic scaling-back in speculative length in gold over the last few months, so that might reduce the positioning risk for the market, but it is definitely going to be an environment where gold is going to struggle and the correlation (of gold to the euro/dollar rate) is going to cause quite substantial headwinds, he said, adding his bank's view was for gold to maintain a range of $1,600 to $1,650 over the coming weeks.
Speculative investors in U.S. gold futures have cut their holdings by almost a third in the last ten weeks, to their lowest in a month.
A drop in speculative holdings of gold is often viewed by analysts as being positive in that it means there is more limited scope for an aggressive sell-off.
ROBUST CHINA
On the supportive front for gold, Hong Kong's gold shipments to mainland China in March jumped nearly 59 percent from the previous month to the third-highest level on record, while the gold flow from China surged to the most in at least two years.
Hong Kong shipped 62,907 kilograms of gold to mainland China in March - a surprisingly high number, and received 24,835 kg of gold from the mainland, leaving the net exports at 38,072 kg, up 16 percent from February, data from the Hong Kong Census and Statistics Department showed.
The gold imports from China in March is about half of the total volume shipped from the mainland to Hong Kong in 2011.
Rising prosperity levels among the population coupled with tighter laws governing property speculation are likely to contribute to sustained high demand for gold in China, Commerzbank analysts said in a note.
Above all, Chinese gold demand should lend key support to the price of gold during the course of the year, they said.
Across the broader markets on Tuesday, Bunds hovered near record highs, while European equities sagged after election results in Greece and France dealt a blow to Europe's austerity drive, and the failure of either of Greece's two main pro-bailout parties to win a majority revived worries about the country's financial problems. .EU
There is also a growing view that a mixture of growth and austerity, as advocated by French President-elect Francois Hollande, may be necessary to get the euro zone economy back on its feet.
With the euro under pressure, the other precious metals also fell. Silver, which is on course for a third consecutive monthly decline, was down 1.1 percent on the day at $29.67 an ounce.
The silver price has lost more than 13 percent in the last three months, dragged lower by the decline in the gold price, rising production, near-record inventory levels on the U.S. futures exchange and an uncertain demand outlook.
Platinum was last down 0.1 percent on the day at $1,519.99 an ounce, while palladium was down 1.0 percent at $635.25 an ounce, in line with the decline in the euro, which weighed on other industrial, dollar-denominated commodities, such as crude oil and copper.
© Copyright Thomson Reuters 2023. All rights reserved.