Golden State Warriors' Star Close To Return From Injury, GSW At Bottom Of 2019 NBA Standings
The Golden State Warriors have been decimated by injuries, losing their best players for a good chunk of the 2019-2020 NBA season. One of those stars will be returning soon, giving a boost to the worst team in the league.
Warriors head coach Steve Kerr told reporters he expects Draymond Green to return to the lineup Monday night against the Oklahoma City Thunder. Green will sit Friday night against the Utah Jazz with right heel soreness.
In six games without Green, Golden State has gone 1-5. The Warriors are 15.5-point underdogs in Utah, according to OddsShark, concluding a four-game road trip.
Golden State returns home Monday night for a brief two-game homestand. The Warriors start a five-game road trip after Thanksgiving.
Green hasn't been as effective on a lesser team this season. Through 10 games, the veteran is averaging 8.7 points, 7.4 rebounds and 5.4 assists per game. His 37.9% field-goal shooting, 26.7% three-point shooting and 0.5 blocks per game are his worst numbers since he was a rookie.
Because of injuries to Stephen Curry and D'Angelo Russell, the Warriors were forced to start Green at point guard Tuesday night against the Memphis Grizzlies. Green finished two points shy of a triple-double in a 114-95 win.
One night later with Green on the bench, Golden State lost to the Dallas Mavericks 142-94. Luka Doncic needed just 26 minutes to post a 35-point triple-double. The Warriors trailed by at least 30 points in the game's final 34 minutes and 53 seconds.
The Warriors are at the bottom of the overall NBA standings with a 3-13 record. Golden State has won 18.8% of their games. No other team has won fewer than 26.7% of their games.
Russell has already missed six games, and he won't return in November because of a thumb injury. A broken hand that Curry suffered in the season's fourth game will cost him at least three months.
Klay Thompson could miss the entire season with a torn ACL that he suffered in Game 6 of the 2019 NBA Finals.
Rookie Eric Paschall leads the Warriors in total points scored. Green is 11th on the team in total points.
Nine of Golden State's top 10 scorers are in their first year with the Warriors.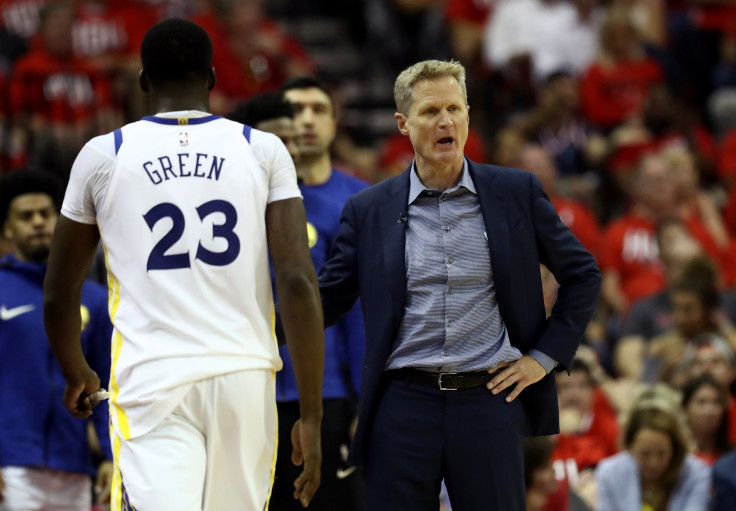 © Copyright IBTimes 2023. All rights reserved.