Golden State Warriors vs. Houston Rockets Game 5 Prediction: Curry, Durant Make GSW The Smart Pick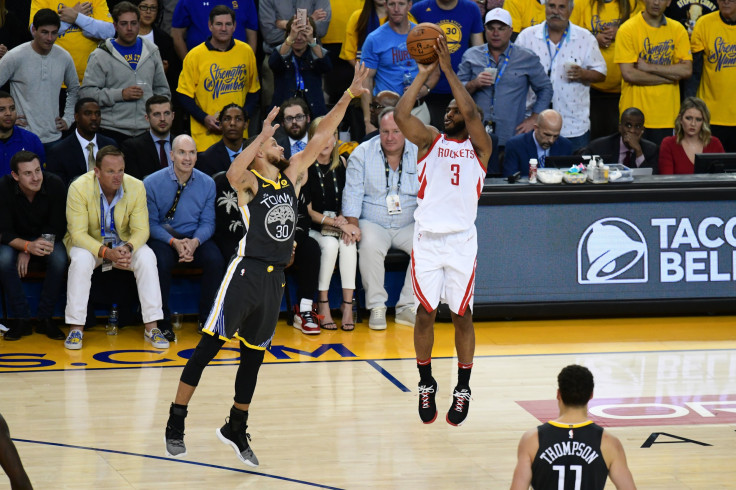 The Houston Rockets find themselves in a position that seemed highly unlikely at the start of the fourth quarter in Game 4 of the Western Conference Finals. They have regained home-court advantage and are just two wins over the Golden State Warriors away from reaching the NBA Finals.
Golden State scored just 12 points in the fourth quarter Tuesday night and blew a double-digit lead at home that would've given them a dominant 3-1 series advantage. The team that has been thought to be unstoppable proved to be beatable, collapsing in crunch time and opening the door for a monumental upset.
Even though the Rockets won 65 regular-season games and finished seven games ahead of the Warriors for the No.1 seed, they are the decided underdogs this series. Golden State went 16-1 in the playoffs en route to a championship in Kevin Durant's first season with the team, and they didn't see a Game 6 in either of the first two postseason series this year. Durant and the Warriors were perfect at Oracle Arena in the playoffs before the Game 4 loss.
Houston's starting backcourt has gotten the better of Golden State's Splash Brothers through four games. Maybe James Harden hasn't been quite at the MVP-level he reached in the regular season, but he's still scoring nearly 30 points per game on 45.6 percent shooting. Chris Paul was the Rockets' best player in their Game 4 comeback and showed why he ranks among the great point guards in league history.
Klay Thompson has been bad for three straight games, posting more field-goal attempts than points scored in each contest. Stephen Curry has been lights out in spurts with stretches of poor shooting.
The Rockets' defense gets some credit, forcing the Warriors to take difficult shots and finding different ways to defend Golden State's pick and rolls. Houston allowed 92 points after being torched for 126 points in Game 3.
When Curry is making three-pointers that most players wouldn't dare attempt, the Warriors might be the best team the NBA has ever seen. When Curry's shot isn't falling, Durant is supposed to be the antidote for Golden State's offense and lead them to victory.
That was the case in Game 1 when Curry made just one three-pointer and Durant carried the Warriors to a 119-106 victory at Toyota Center. He took over with 37 points on 14-27 shooting and looked every bit like the league's second-best player.
Durant scored 38 points with an even better shooting night in Game 2, but Golden State was blown out 127-105. The offense stalled with Curry and Thompson shooting 10-30 and Draymond Green making just two field goals.
Twice in this series, Golden State has seemed ready to put Houston away: after Game 1 when the Warriors cruised to a road win without much help from Curry, and at the end of the third quarter in Game 4 when Curry made four three-pointers and the Rockets were outscored by 17 points. Houston has responded each time, keeping their title chances alive.
Game 5 should be a battle in Houston. The Rockets won't go down without a fight, and their defense has made life difficult at times for a team that's led by elite shooters. The likes of P.J. Tucker and Trevor Ariza have made a real impact, making up for the Warriors' edge in the superstar department.
Will they be able to stifle Golden State's offense for a second straight game? That's a lot to ask, even as the series shifts back to Houston's home court. Curry and Durant combined to miss 11 of their 13 shot attempts in Game 4, something that almost certainly won't happen again for the remainder of the postseason.
Whether it's age or a nagging injury, Paul hasn't shown the ability to be great on a nightly basis. Only once this postseason has he registered consecutive 20-point games in the same series. He's imperative to their hopes of dethroning the defending champs.
Despite his fourth-quarter struggles Tuesday night, Curry found his shooting stroke at home. Durant has largely been able to do what he wants on offense this series. In their biggest game of the season, Golden State's transcendent players could take over.
If that happens, there might be nothing Harden, Paul and the Rockets can do.
Game 5 Prediction: Golden State over Houston, 115-108
© Copyright IBTimes 2023. All rights reserved.