Google, Apple Buses Targeted By Anti-Gentrification Protesters In San Francisco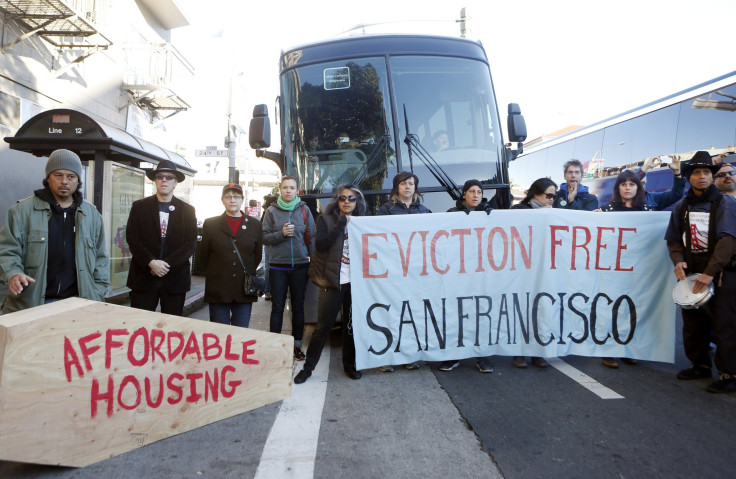 Anti-gentrification protesters blocked a bus reportedly operated by Apple (NASDAQ:AAPL) after reports that Google (NASDAQ:GOOG) shuttle was vandalized in Oakland on Friday, in the latest sign of mounting discontent over the tech industry's role in rising living costs in the region.
A corporate bus in the Mission District was blocked by protesters for about 30 minutes during its morning commute, Reuters reported. It was not entirely clear which company the bus was operating for, but it is likely to have been picking up Apple employees working at Ridgeview Court, not far from its headquarters in Cupertino, Calif., according to Reuters. Protesters also targeted two Google buses in Oakland, news reports said.
"We want the ruling class, which is becoming the tech class, to listen to our voices and listen to the voices of folks that are being displaced," said a protester in San Francisco, addressing a crowd, Reuters reported.
Protesters displayed a banner that read "Eviction Free San Francisco" and distributed flyers titled "San Francisco: A tale of two cities."
Protesters say that high-paid tech industry workers are displacing low-income residents in San Francisco, and also criticize the city administration's policy of extending generous treatment, in the form of payroll-tax exemptions, to technology giants.
"We and others in our industry are working with San Francisco Municipal Transportation Agency to agree on a policy on shuttles in the city," Google said in a statement, according to Reuters.
© Copyright IBTimes 2023. All rights reserved.