Google Will See You Now: Search Giant To Embed Medical Advice In Results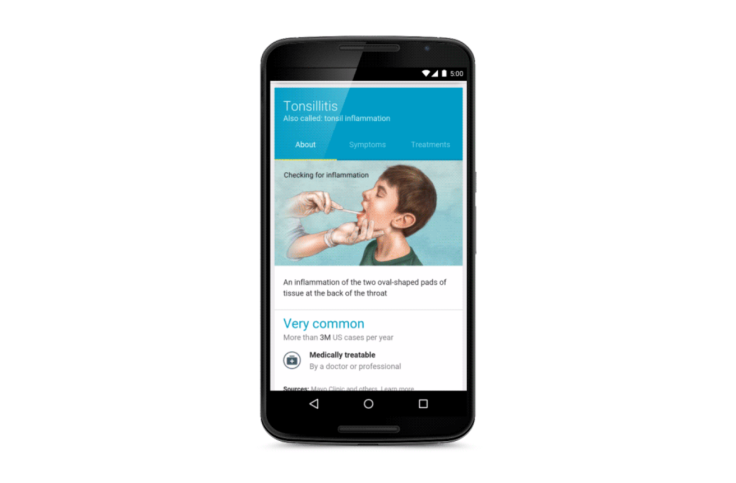 The next time you search Google for health information, you won't have to wade through rows of links to find what you're looking for. Google will soon begin showing users basic information when they search for common health conditions. Among these results, it will show symptoms and treatments, how common a condition is, whom it can affect and how severe it may be. The service will debut in English.
"Once you get this basic info from Google, you should find it easier to do more research on other sites around the Web, or know what questions to ask your doctor," Google said Tuesday in a blog post.
The announcement is the latest example of Google's shift away from being a middleman for helpful links to being a source of direct information.
"We used to show just 10 blue links in our results. You had to click through to different websites to get your answers, which took time. Now we are increasingly able to provide direct answers -- even if you're speaking your question using Voice Search -- which makes it quicker, easier and more natural to find what you're looking for," Google said Monday in its annual filing with the Securities And Exchange Commission.
The new service mirrors Google's efforts to provide direct information for other industries. A search of an airline flight number yields a box showing the status of that flight while searching an actor's name will make Google display that person's basic information, including birth date, height and work samples.
The shift toward direct answers is due to the growing use of smartphones. When users search on their mobile devices, they typically want information as quickly as possible and do not want to wade through a flurry of links. Google's Knowledge Graph, as the company calls its information database, allows it to provide its mobile users with quick answers.
Knowledge Graph also allows placement of large display ads on mobile devices in certain situations. When users search for a product, for example, Google will show them ads with pictures from various online stores while an artist search will include ads for streaming music.
These highly visible ads are valuable when it comes to smartphones, which have small screens that are not optimized for the type of text ads Google built its desktop search business on. Google has been struggling to grow its mobile ad business, so expect the search giant to continue growing Knowledge Graph and the advertisements that will come with it.
© Copyright IBTimes 2023. All rights reserved.