GOP Primary Report: Bobby Jindal, George Pataki, Rand Paul To Quit Presidential Race?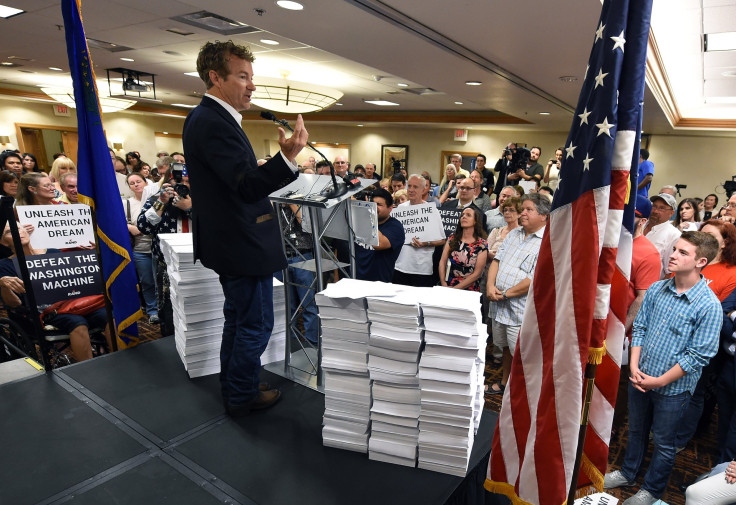 Louisiana Gov. Bobby Jindal, along with former New York Gov. George Pataki and Kentucky Sen. Rand Paul are next in line to quit the Republican presidential race, Politico reported, citing a survey of activists, strategists and operatives in New Hampshire and Iowa.
Twenty-seven percent of those surveyed from New Hampshire predicted Pataki will be next in line to drop out of the race, with one source saying: "The only question is why he wasn't out before [Former Texas Gov. Rick] Perry and [Wisconsin Gov. Scott] Walker." Sources spoke on condition of anonymity to Politico last week. In Iowa, 25 percent of those surveyed said Jindal will be next to drop. "He's become desperate," an Iowa source said. "He's taken to attacking Trump [we know how that worked out for Perry and Walker] and has nothing going on here in Iowa."
Paul places second in both states as the candidate likely to drop next, with 22 percent in New Hampshire saying Paul will be next to go. "Rand Paul's campaign [reeks] of the same stench of death that surrounded the Perry and Walker efforts before their demise," a source said. Dropping out would mean Paul could focus on winning re-election for his Senate seat.
Polling data indicate the three named candidates are trailing far behind in the race. In an Iowa poll conducted by Quinnipac University earlier this month, Jindal scored 2 percent support, Paul scored 4 percent, and Pataki's support was negligible. In the same survey, 11 percent of respondents said they would absolutely not support Paul for the nomination, the fifth highest score of the 17 listed candidates.
A poll Thursday from University of New Hampshire indicated Jindal and Pataki had 0 percent support and Paul with 3 percent while the Wall Street Journal/NBC poll released Sunday indicated Jindahl with 1 percent support, Pataki with no support and Paul with 3 percent.
© Copyright IBTimes 2023. All rights reserved.