GOP's Eric Cantor Abandons Deficit Talks, Citing Tax Disagreement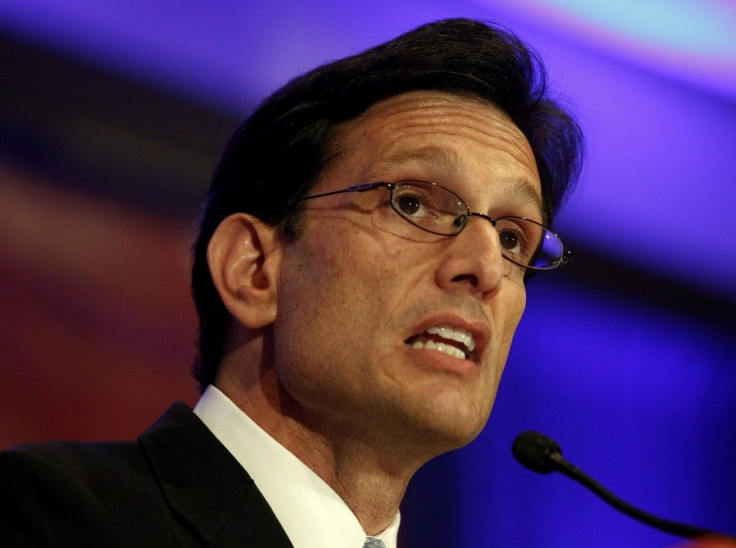 U.S. Rep. Eric Cantor, R-Va., announced Thursday morning he is suspending his participation in the bipartisan negotiations to reduce the deficit, saying the talks had reached an impasse over taxes.
Revenue has been a major point of contention throughout -- Republicans remain adamantly opposed to any form of tax increase while Democrats, led by President Barack Obama, are unwilling to sign onto budget cuts that are not accompanied by a revenue increase.
Regardless of the progress that has been made, the tax issue must be resolved before discussions can continue, Cantor said in a statement. I will not be participating in [Thursday's] meeting and I believe it is time for the president to speak clearly and resolve the tax issue.
Vice President Joe Biden, D-Maryland, who is leading the talks, said last week that the both parties had already identified low-hanging fruit, such as scaling back farm subsidies and curtailing the growth of government agencies, warning that the hard part lay ahead. Cantor alluded to a similar point, noting that the tax issue has become the elephant in the room.
At each meeting, it has become a little more difficult to ignore that divide,'' Cantor said.
A deficit reduction package represents a concession necessary to win Republican support for raising the debt ceiling. Both sides have agreed on $2 trillion in deficit reduction, roughly equal to the rise in the debt limit. Cantor's abstention raises the possibility that Obama will take over the process.
© Copyright IBTimes 2023. All rights reserved.