Government Official In Trouble For Handcuffing And Parading 13-Year-Old For Spilling Water [PHOTO]
China's microbloggers are going after a government official in a small town in southern Guizhou province for handcuffing a 13-year-old girl and parading her around for her "crime": accidentally spilling water on a town government vehicle.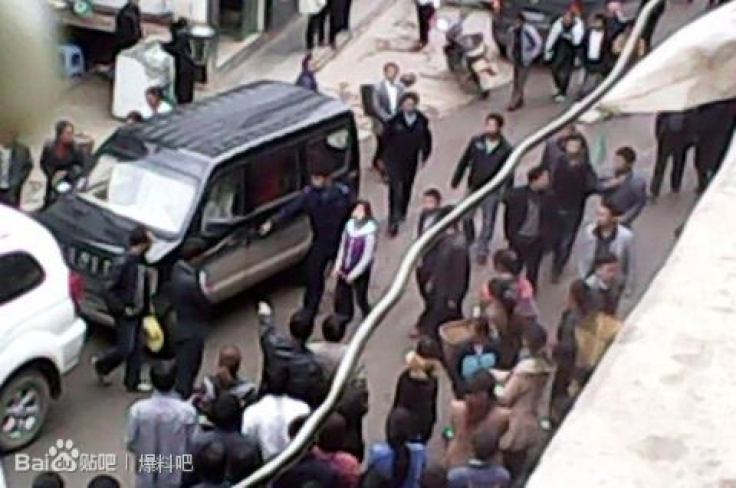 The story circulated on China's Twitter-like microblogging service Weibo and quickly became its most shared story over a 24-hour period, garnering more than 151,000 shares and 21,000 comments as of Tuesday. The original post on Weibo said that a Communist Party secretary for Hezhang county in Guizhou used his position of power to administer cruel justice for what seemed to be an accident.
According to ChinaSmack, a Chinese Internet-trends blog, the initial incident happened in early April when 13-year-old Rao Yao accidentally spilled water on the government car. The town's deputy mayor emerged from the vehicle and engaged in an argument with the girl, soon attracting a crowd of about 30 people, including Party Secretary Yuan Zehong. The situation escalated when Rao's aunt, Chen Ziju, protested the officials' move to handcuff her niece, saying it would "emotionally traumatize" her. Police reportedly began beating the aunt, causing her to pass out, then shackled the girl and paraded her up and down the street while a police car led the way with its sirens on for about 20 minutes. Rao was then illegally detained for 12 hours.
China's bloggers expressed disappointment and anger over the local official's actions.
"So disappointing," one blogger wrote. "Once again hurting public credibility."
"Maotai-drinking beasts of burden generally have nasty tempers!" another blogger posted, noting officials' widely known taste for expensive liquor.
Others had much more serious reactions to the story. "This must be forwarded. China's regional/local government gangsters and savages are unimaginable. Party Secretary, you're definitely going to become famous."
Party Secretary Yuan responded to the reports, disputing many details in the post, telling a local Chengdu reporter that Rao was cuffed because she is physically larger than her actual age, so officers were not certain if she was a minor. Yuan also said the so-called "parading" was a fabrication. According to Yuan, the incident took place on March 30, and he even filed a report on the case. The report said that Rao's father, a street vendor, was violating a code and refused to move, at which point he and his daughter purposely threw a bucket of dirty water onto the vehicle, initiating the altercation.
Still, many bloggers weren't totally convinced that all actions by the officials were justified.
"So if she was 30, she would have been handcuffed still?" another user noted, contending the alleged crime should not have warranted such a strong police reaction.
One commenter suggested objectivity, saying that to some extent the government acted correctly. "The comments are one-sided. People shouldn't be blind in their hatred of government officials. People should objectively look at the issue. Government workers also have their dignity!" the blogger wrote in defense. To which another blogger retorted, "This was illegal. You saying this means you must be a government official."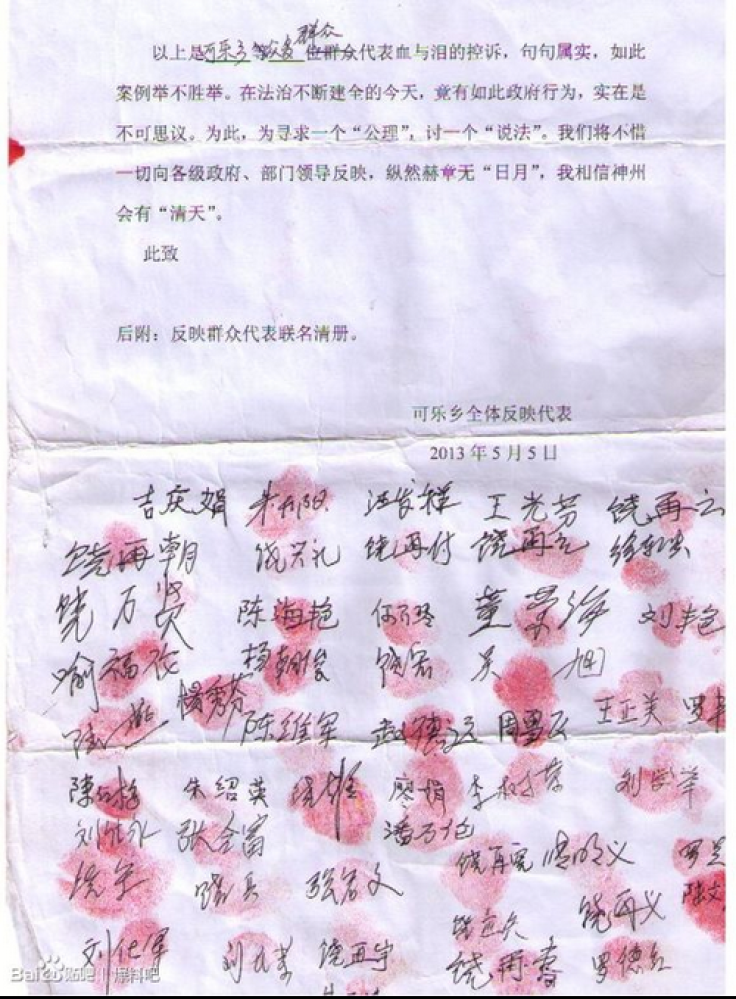 According to this post, Yuan Zehong is notorious in the area for shady practices and corrupt behavior like forcibly expropriating land, as well as other particularly cruel beatings. It also asserts that "irrefutable proof" exists of his crooked leadership. The post includes a signed and thumb-printed petition that has been circulating against Yuan, calling for his punishment.
© Copyright IBTimes 2023. All rights reserved.